Why Kourtney Kardashian's Recent Bikini Photo Has The Internet Buzzing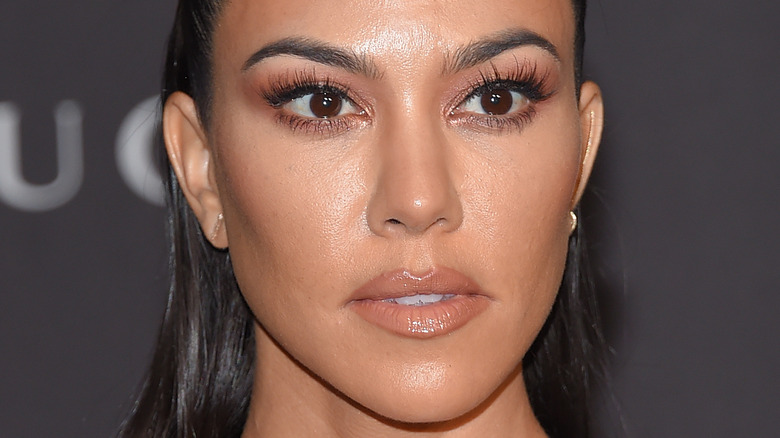 Shutterstock
Kourtney Kardashian posting bikini pics on Instagram is nothing new. A recent image the reality star shared via her Poosh account features something fans are not used to seeing: her unretouched body (via Page Six). The image shows the eldest Kardashian sister from behind while wearing a thong bathing suit, and she looks undeniably amazing. But you can clearly make out, gasp, some cellulite on her rear end.
Fans are absolutely loving the real shot. "ok finally an unedited kardashian," one follower applauded the mom of three. "Unedited queen," another agreed. Likewise, someone else commented, "Unedited, omg I love her."
The appreciation for the honest share kept pouring in, with yet another commenter writing, "Way to empower the natural women body!! Love this." Someone else said, "I love that the little dimples were kept! Its [sic] so natural and so beautiful."
"Yasss cellulite," commented another fan of the no filters photo. And someone else pointed out, "We need more of this from celebs."
The Kardashians usually earn scorn for edited images
Of course, the Kardashians are no strangers to photo editing controversy. Seventeen devoted an entire article to reviewing the family's worst photoshop fails, including the time they were snapped in Tahoe and Kourtney looked like she was edited into the picture later.
Kim has been accused of photoshopping her rear end to look more toned in photos (via Daily Mail). And Khloé's fans have questioned why she looks so different in pictures. Could it be retouching overload? Meanwhile, the youngest Kardashian sister was also recently caught up in a controversy that saw her team scrambling to remove an unedited bathing suit photo of her from the internet (via Page Six).
Perhaps all of these instances are why people are so relieved to see a picture of Kourtney that shows her real body. Indeed, as one follower pointed out in the comments section of her buzzworthy Instagram photo, "Her sisters would never.... They'll sue... like Khloe. She's just naturally beautiful and confident in her skin" while another encouraged the star, "keep up the realistic pics of how society really is."