The Truth About Carli Lloyd's Marriage To Brian Hollis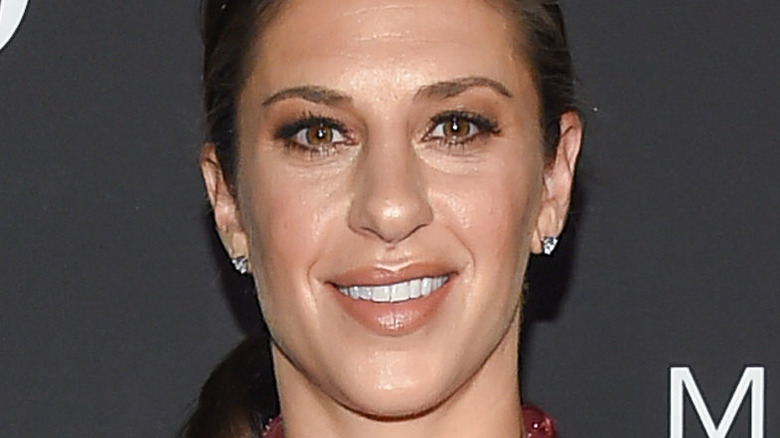 Shutterstock
Carli Lloyd is heading to Tokyo as a key member of the Women's National Soccer team. The Guardian writes that it'll be the fourth Olympics that the 38-year-old has played in. She told Good Morning America, "There's something really special about the Olympics and playing for this team. Nothing is guaranteed. Hard work gets you to the top, extreme hard work keeps you at the top. I'm just grateful to be able to continue to still play and live out my dream." 
Forbes writes that in her long career, Lloyd has helped the women's soccer team win two gold medals at the Olympics and two FIFA Women's World Cup titles. Her resume is seriously impressive and she's one of the most experienced players on the team.
In 2016 she released her memoir, "When Nobody Was Watching: My Hard-Fought Journey To The Top Of The Soccer World." In the New York Times Bestseller, she opened up about how committing to football has sometimes come at the expense of personal relationships. However, Lloyd has had a lot of success both on and off the pitch.
As all eyes look to her success, fans are also interested in the star's personal life, including her marriage to golfer Brian Hollis. They're in a pretty unique position in that he fully understands the pressures of being a professional athlete.
Carli and Brian are childhood sweethearts
Understanding the work it takes to play on the national soccer team is no easy task. However, it'd seem that Brian Hollis has stood by Carli Lloyd since day one. The Knot reported after being together for 16 years, Lloyd and Hollis tied the knot in a beach wedding in Mexico in November 2016.
Speaking to the publication at the time, Lloyd gushed, "This was the best day of our lives. Even after 16 years of being together, I fell more in love with him on our wedding day. I love the person he is — the person he's become."
People explains that the pair were high school sweethearts and he's stood by her and she's built her reputation in soccer. It's hard to imagine how Lloyd had time to plan a wedding while preparing for the Olympics in Rio. However, she told Us Weekly, "I'm getting things done. Things are coming together nicely and once I get back into playing, I'll have my maid of honor and bridesmaids probably take over a lot from there."
They're both pro-athletes
The 18 explains that in her book, Carli Lloyd got very candid about how her sporting commitments have affected her familial relationships. In an excerpt published in Sports Illustrated, she described an argument about soccer that left her packing her bags.
"I love my family and would like nothing more than to reconcile with them," she wrote. "Nobody has done more for me than my parents, who devoted untold amounts of time and money that allowed me to play the game I love. It's no exaggeration to say I never would have gotten anywhere near a World Cup, an Olympics, or even the U.S. National Team without them. I have never forgotten that, and I never will." 
However, as Brian Hollis plays professional golf then it's likely he has a little bit of an insight into what Lloyd has had to give to get to the point she's at in her career. That doesn't come without some healthy competition.
During an interview with Sports Illustrated she said, "He laughs because he says I always go in harder against him, and I'm like, 'No, you always go harder against me.' It gets heated, we'll lay each other out. You know, it's fun, we get to banter. We get to be outside the relationship lovey-dove type of thing and go battle."