The First Photo From The Sex And The City Reboot Is Causing A Stir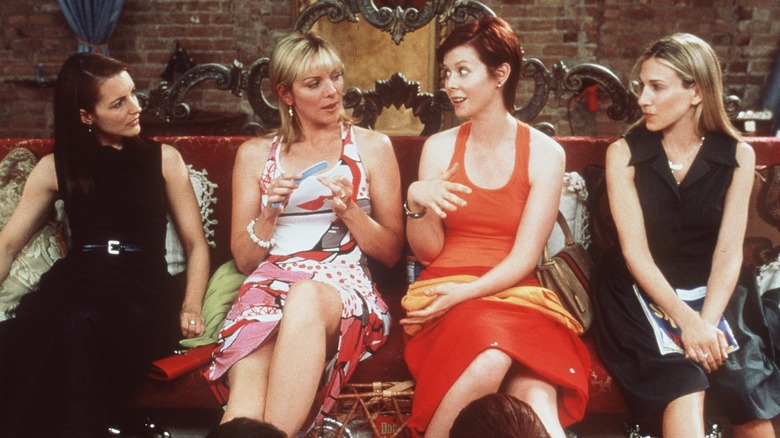 Getty Images/Getty Images
After announcing that "Sex and the City" would be returning to screens earlier this year, HBO Max has finally revealed a first look image of the girls strutting the streets of New York (via Deadline).
The 10-episode series "Just Like That..." is currently filming in the Big Apple, and the new image sees Sarah Jessica-Parker, Cynthia Nixon, and Kristin Davis reprising their roles of Carrie, Miranda, and Charlotte, looking stylish as ever. However, there was a notable absence from the photo — that of Kim Cattrall, who played Samantha in the original run of the series.
"The pic just doesn't hit the same without Kim Cattrall as the iconic Samatha Jones," one Twitter user wrote. "Bringing back Sex and the City without Kim Cattrall is like bringing back an old sitcom without your most talented actor," wrote another.
It's definitely an image to get used to, but Cattrall has been firm that she will not return to the franchise regardless of whether it's another film or series.
Kim Cattrall swears that Samantha will 'never reappear' in Sex and the City
HBO Max
"I haven't killed Samantha, I have released Samantha," Kim Cattrall said on "Piers Morgan's Life Stories" in 2017 (via the Daily Mail), swearing that she'll never reappear in "Sex and the City." "Me playing her is definitely, that I can assure you will never happen," the actor continued. "For me it's over, and it's over with no regrets. I just wish that Sarah [Jessica Parker] had been nicer."
While Cattrall said that there is a "genuine affection" between her and Parker, they haven't had the best relationship since the original series came to an end in 2004, and even during the two subsequent films. "I think the thing that still bothers me is this feeling of being in some way made to be the baddie," she said, adding, "I never asked for money, I never asked for any projects, to be thought of as some kind of diva is ridiculous."
As for how Samantha's absence will be addressed in the show, HBO Max's chief content officer Casey Bloys explained (via the New Zealand Herald) that "friendships fade" and that the new series will be tell "an honest story about being a woman in her 50s in New York. So it should all feel somewhat organic, and the friends that you have when you're 30, you may not have when you're 50."