William Smith's Net Worth At The Time Of His Death May Surprise You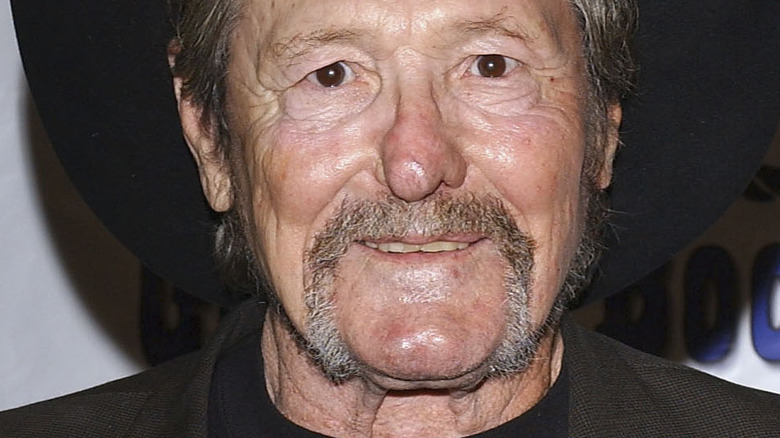 Stephen Shugerman/Getty Images
American actor William Smith passed away at the age of 88 years old on July 9, 2021. The Hollywood screen icon had over 270 credits to his name in film and television (via IMDb), including his legendary role as boxer Jack Wilson in "Any Which Way You Can," opposite Clint Eastwood, as well as "Conan the Barbarian" with Arnold Schwarzenegger. He also starred in the likes of "Rich Man, Poor Man", "Laredo," and "Hawaii Five-O" (via the Hollywood Reporter), with his last role being Hofbrau Bar Fly in the 2020 film "Irresistible," starring Steve Carell and Rose Byrne.
Outside of his career in Hollywood, Smith had forged a successful career in the U.S. Air Force and the NSA. During the Korean War in the early '50s, Smith was "flying on secret missions over Russia and other Eastern Bloc countries" (via his official site), and could speak fluently in Russian, German, French, and Serbo-Croatian. He was also a bodybuilder, discus thrower, an arm-wrestling champion, and served as a volunteer firefighter in California.
Originally intending to work for the U.S. government in a classified position due to his clearance in the CIA and NSA, Smith changed his career trajectory when he landed an acting contract with MGM, which led to roles in George Pal's "Atlantis, The Lost Continent" in 1961 and TV series like "Batman," "Lassie," "Death Valley Days," and "The Mob Squad."
William Smith experienced Hollywood for the first time as a child
At the time of his death, the culmination of William Smith's earnings as an actor and his many other ventures led to a net worth of around $7 million, according to Famous People Net Worth.
Born from humble beginnings, Smith grew up on a cattle farm owned by his family in Columbia, Missouri. He could "ride almost before he could walk" (via his official site), and "his love of horses and the western lifestyle" became an integral part to his on-screen presence.
Prior to his time in the military and his eventual contract with MGM, Smith did have a substantial amount of experience in Hollywood as a youngster. After he and his family moved to Southern California, an eight-year-old Smith appeared as an uncredited child extra on "The Ghost of Frankenstein" with Bela Lugosi and Lon Chaney Jr., and he also had roles in "The Song of Bernadette," "Going My Way," "Meet Me in St. Louis," and "A Tree Grows In Brooklyn" (via WFTV 9).