How To Replicate Olivia Rodrigo's Makeup Routine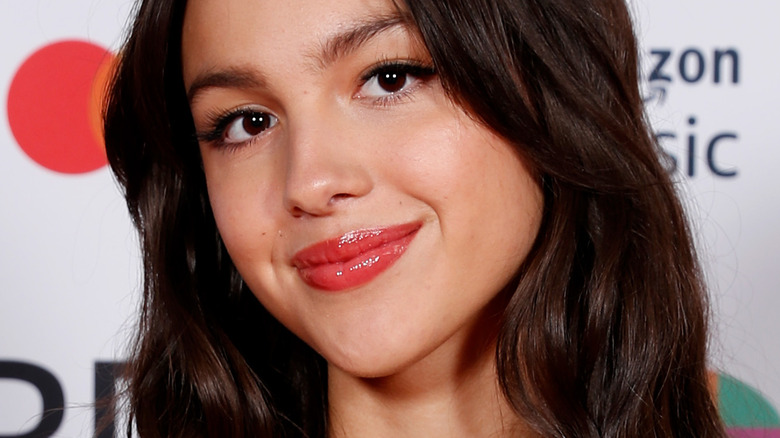 Jmenternational/Getty Images
We may receive a commission on purchases made from links.
Ever since she dropped her smash-hit single "Drivers License," actor and singer-songwriter Olivia Rodrigo has taken the world by storm — and has quickly become one of the biggest stars in pop music, earning widespread success and acclaim with her debut album "Sour." But in between smashing numerous records on Billboard and starring on Disney's "High School Musical: The Musical: The Series," how does the talented Gen Z star manage to look so flawless?
As it turns out, Rodrigo's everyday beauty routine is all about self-care and natural, effortless makeup — and it's also pretty easy to replicate, too. Sharing her step-by-step makeup routine in a Vogue Beauty Secrets video, the 18-year-old singer made sure to reveal the secret to her signature minimal-yet-gorgeous look. "I think the biggest thing I've learned in makeup is less is more, especially with me," she told the outlet (via E!). "Just accentuating your natural features is always the move and always when I feel the most confident."
If you're looking to steal Rodrigo's flawless, less-is-more look, here's a step-by-step breakdown of the pop star's everyday makeup routine.
These are Olivia's go-to beauty products for a natural, effortless look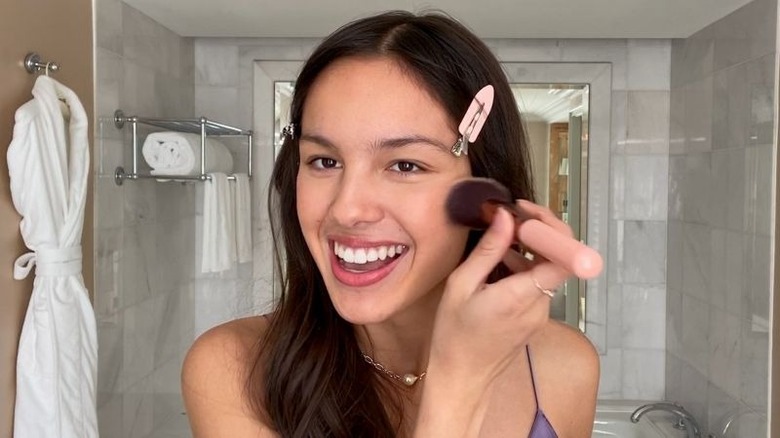 Vogue/YouTube
Before getting started on makeup, the first thing that Olivia Rodrigo does is to take Olly Undeniable Beauty gummy vitamins. After cleansing her face with Epionce Milky Lotion Cleanser, the singer then applies a serum from The Ordinary and uses a Gua Sha on her face, before putting on lip scrub and chapstick.
Now it's onto her makeup, starting with First Aid Beauty's Ultra Repair Tinted Moisturizer BB cream. "I like to keep it really natural and glowy," she shared with Vogue. Rodrigo's next step is to apply Glossier Stretch Concealer in shade G10 under her eyes, which she says "goes on like butter." Then, she applies bronzer (for a "tan and sunkissed" look) and some blush on her cheeks — and highlighter above that and in the inner corners of her eyes. Next, Rodrigo fills in her eyebrows with a brow pencil and one of her favorite products, the iconic Glossier Boy Brow gel, before using Glossier Pro Tip Liquid Eyeliner (to "elongate her eyes"), curling her eyelashes, and applying mascara.
Last but not least, she applies Glossier's new Ultralip in shade "Ember" — and with a spray of dry shampoo, the pop star is ready to face the day. "I really love putting on makeup, and it's this really awesome ritual for me," Rodrigo told the outlet. "I think at the root of your beauty routine should just be enjoyment and doing it for your own self-confidence" (via E!). Her effortless beauty routine certainly reflects that!