The Surprising Friendship Between Miley Cyrus And Kelly Osbourne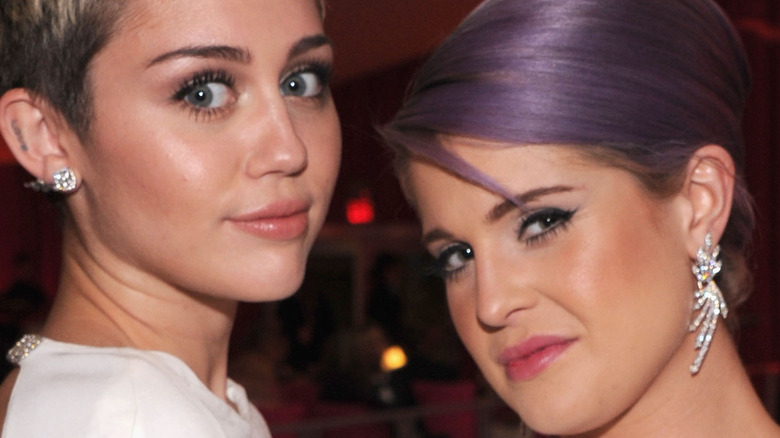 Jamie Mccarthy/Getty Images
Miley Cyrus and Kelly Osbourne have a lot in common. Both come from music royalty and have grown up in the spotlight, even so far as becoming more famous than their dads. So it's no surprise that the duo formed a tight bond over the years, one that genuinely blossomed when they starred in the 2012 film "So Undercover."
Before working with Cyrus, Osbourne thought the Disney star was "too [effing] perfect" (via the Daily Mail), but soon changed her mind when they met for the first time on set in 2010. In response to a video floating around at the time of an 18-year-old Cyrus smoking from a bong, Osbourne tweeted (via MTV), "Miley is one of the most hard working and respectful women I have ever worked with ... Miley and I have become really close. I'm sick of all the haters judging her. She made one mistake and trust me, she has learned her lesson!"
In 2012, Osbourne's opinion of Cyrus hadn't changed a bit. "I love her — she's got a level head on her shoulders — unlike so many silly L.A. girls," she told Star magazine (via the Daily Mail) while promoting "So Undercover." "She just gets it. She has a really similar upbringing to me," she explained. "It's nice to hang around an unaffected girl you can have fun with and understand what I go through and I understand what she goes through."
Kelly Osbourne wasn't the biggest fan of Cyrus' 2014 VMA performance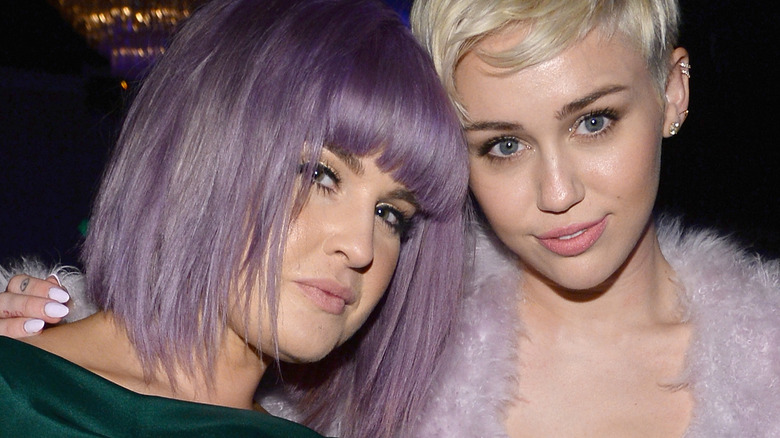 Larry Busacca/Getty Images
Kelly Osbourne continued her defense of the singer in 2014, around the time Cyrus' fourth album "Bangerz" came out. During an interview with HuffPost in April, Osbourne described how proud she was of Miley Cyrus because "whether you agree with what she does or not, she stands by her guns and she's not fake."
That's not to say Osbourne hasn't criticized Cyrus, though. When asked by Joan Rivers on "E!'s Fashion Police" what she thought of Cyrus' 2014 VMA performance, Osbourne explained that while she "has her back no matter what ... as her friend I'm going to tell her: 'I love you, but just put your tongue in your mouth'."
But as Osbourne explained to HuffPost, young stars like Cyrus and Justin Bieber should be able to learn from their mistakes rather than be vilified for them. "Every teenager deserves to make a mistake, to act out and learn from them," she told HuffPost Live host Caitlyn Becker. "And how can they learn from their mistakes if there's always somebody there trying to fix it for them?"