Lauren Boebert's Net Worth May Surprise You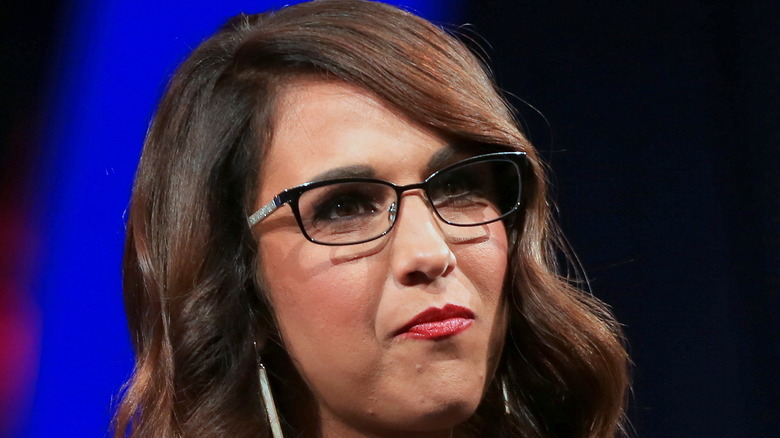 Bloomberg/Getty Images
Lauren Boebert has made a name for herself as an ultra-conservative Republication serving her first term in the U.S. Congress. According to her website, Boebert grew up on welfare and dropped out of high school during her senior year to work full-time at McDonald's to help financially support her family. She eventually went on to work for a natural gas drilling company and earned her GED in 2020, right before her first election primary (per Colorado Pols).
The 35 year-old married her husband, Jayson, in 2005. He worked in the oil and gas industry before the couple decided to open a gun-themed restaurant, Shooters Grill, in Colorado in 2013 (per Heavy). The Boeberts are staunch supporters of the Second Amendment and claim they founded the eatery — where the waitstaff openly carry firearms — to connect with others in the community.
"When my husband, Jayson, and I made the decision to open a restaurant, we knew the financials in the industry were not always favorable," Boebert wrote in an opinion piece for the Glenwood Springs Post Independent. "That did not deter us; we were not and are not in this business for the sole purpose to make a profit. We rely on our valued customers to keep our doors open, but that money does not go into our pockets."
Despite never holding public office, Boebert was elected to Congress in 2020, becoming "the first woman, first mother, and youngest ever to represent Colorado's Third District." 
Lauren Boebert went from welfare to making millions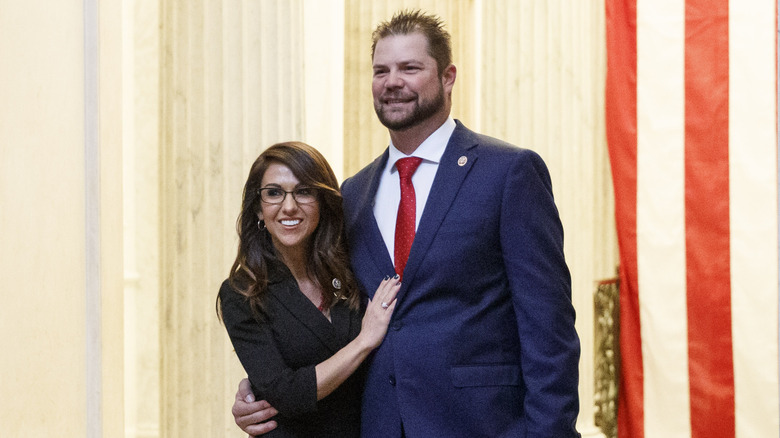 Bloomberg/Getty Images
Through her restaurant in Colorado and political career, Lauren Boebert has a reported net worth of $1.7 million (per TV Guide Time). As the representative for Colorado's third congressional district, she currently serves on the Congressional Second Amendment Caucus, the Congressional Western Caucus, the Republican Study Committee, and the House Freedom Caucus (per her official website). In addition, Boebert has been busy prepping her 2022 re-election campaign, raising more than $1.5 million so far (per AP News). She also continues to be a supporter of Donald Trump, even after his loss in the 2020 presidential election to President Joe Biden.
"I remain close with President Trump. And I guess not 'remain' — so I've always been close with him in my heart, but now I am close with him, which is really nice. I'll be going back out and seeing him again in July," she told The Washington Examiner (via Yahoo News).
When she's not campaigning, Boebert is raising her four sons, whom she shares with her husband, Jayson. "I am a mother to 4 boys," she tweeted in May 2020. "My husband and I are raising them to be strong men! I refuse to send my children into a socialist nation. Their freedom IS my motivator!"