Why Jill Biden's Visit To This Children's Show Has The Internet Talking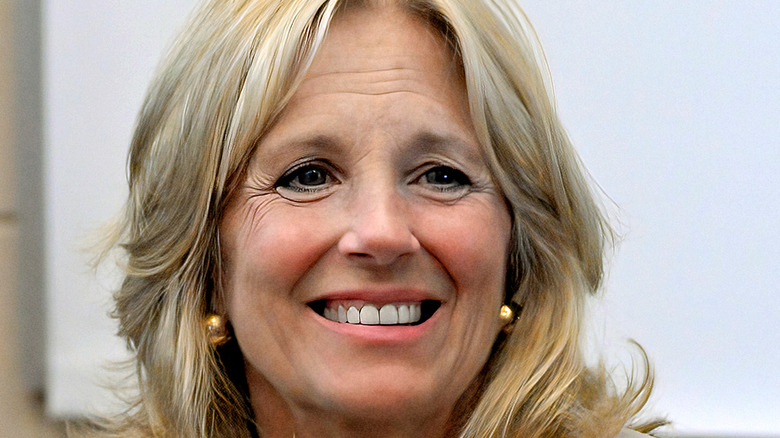 Shutterstock
First Lady Dr. Jill Biden's work with military families has taken her to many different parts of the country, but there was one place she recently got to visit – albeit through Zoom due to social distancing protocols – and that's Sesame Street.
In a new segment which aired via YouTube, Dr. Biden speaks to Rosita, the furry green monster who not only comes from a military family, she is also a bilingual Mexican-American. According to USA Today, Dr. Biden's guest spot is meant to inspire racial literacy which the show and its producer, Sesame Workshop, has long stood for diversity, inclusion, and racial justice. 
"The work to dismantle racism begins by helping children understand what racism is and how it hurts and impacts people," Sesame Workshop Kay Wilson Stallings states. "We're proud to reaffirm our 'Coming Together' commitment to racial justice, which will be woven into new Sesame Workshop content for years to come." 
Jill is the latest first lady to appear on Sesame Street
This isn't Jill Biden's first appearance on Sesame Street; she dropped by in 2011 when both she and former First Lady Michelle Obama were marshalling support for the country's military families (via Obama White House).
Biden also joins other first ladies who have been a part of Sesame Street's roster of important guests. The "first" first lady to visit was Barbara Bush, who dropped by to read Big Bird, The Count, and their friends a book. Hilary Rodham Clinton visited Sesame Street too, as did Laura Bush, and Obama – who used the show to promote her healthy eating campaign (via The Washington Post). While Melania Trump - who spearheaded an anti-bullying "Be Best" campaign - never appeared on the show, it's unclear is she was ever invited, according to USA Today.
However, the Trumps may not be a fan of the show anyway. As The Washington Post reports, the show was behind a few particularly brutal satirical takedowns of former President Donald Trump, including a muppet named Donald Grump who took away Oscar's trash cans, and Ronald Grump played by Joe Pesci, who tried to raze the world-famous street to build Grump Tower. Then there was Donald Grump, the orange-haired host of "Grouch Apprentice." Relations between Sesame Street's producers and Donald Trump likely deteriorated further after the former president threatened to defund PBS, the public network behind the creation of Sesame Street.