The Savage X Fenty Bra That's Going Viral On TikTok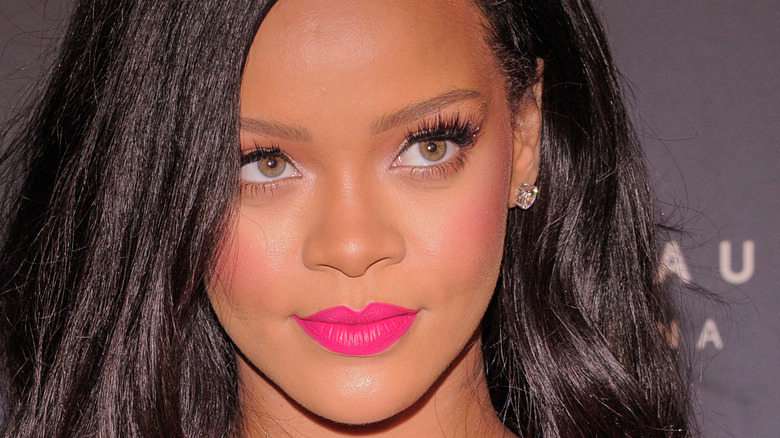 Shutterstock
The internet's obsession with Rihanna is perpetual, and the digital love for her lingerie brand Savage x Fenty isn't far behind. The bridal collection that dropped a few months ago has a piece going viral on the internet, just in time for the wedding season. The Floral Lace Balconette Bra has taken over TikTok (via PopSugar), which is an updated design from the lingerie website's best-selling Floral Lace Unlined Bra.
Described as "the perfect 'something blue' for your bridal look" (via Savage X Fenty), the soft lilac bra has been seen on many influencers as well as ambassadors for the brand. Rapper Rico Nasty has it listed on her top looks from Savage X, while the bra has also been spotted on "Love Island" reality star Caroline Viehweg on TikTok. Artist Lady London also posted a gorgeous shot of the bra, amid tapestries and psychedelic prints. Featured in numerous unboxing videos and hauls, the bra's classic lace complements the brand's signature rose gold "X" charm.
Savage X viral leggings are perfect for the bra
Influencer and video creator Vanessa Lynn wears the bra with the Floral Lace High Leg Brazilian in an Instagram post that tells us "don't look at the caption, look at me." But the versatile piece can be paired with a floral thong or an endless slew of garters. However, if you're feeling particularly daring, the brand's controversial butt-revealing leggings might be a good match, too.
The open-back, crotchless (still high-waisted) purple leggings went viral last month as TikTok user Fathermarge brought it to everyone's FYP (via Refinery29). The strapped lace trims on the leggings may just pair well with the bra's softer look, completing a viral matched set from the brand. While the leggings are possibly on the more contentious side of internet fame, there have been calls to "normalize butt-cleavage" (via TikTok).
However, if a fairy aesthetic is all you're looking for, you can find the lilac bra for $49.95 on Rihanna's lingerie website.