The Drugstore Hair Product That Olivia Munn's Stylist Swears By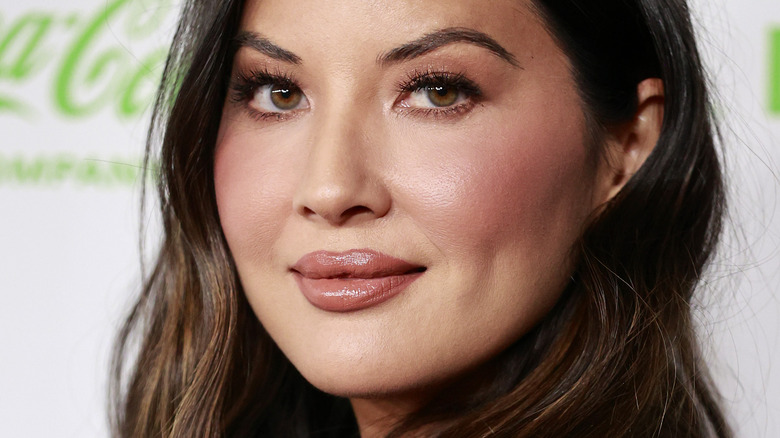 Emma Mcintyre/Getty Images
Striving to achieve Olivia Munn's luscious locks? Well, get ready to add a must-have item to your hair care routine, because the star's stylist has shared one of her best kept secrets to maintain a super glossy look. In an interview with E!, Cassondra Kaeding revealed that a particular drugstore conditioner is the ultimate hair care companion. Kaeding, who is a celebrity colorist for Dove, regularly uses Dove's $6 Color Care conditioner as a hair mask to maintain moisture and give her client's hair an unbelievable shine.
Kaeding often advises clients to opt for a 15-minute conditioning treatment instead of a dedicated hair mask, as a hair mask can overload your locks with too much product. "Less is more. Don't overdo with too much protein," the expert explained. "Too much of a good thing can be a bad thing" (via E!). But why does she opt for Dove's Color Care? Well, it's all down to the oil that's infused within the product.
Coconut oil can help 'remove sebum build-up' from your hair and speed up growth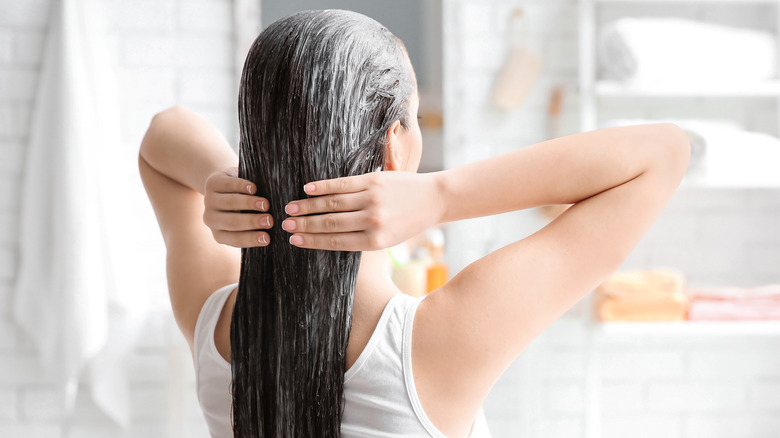 Shutterstock
"The [Dove Color Care Conditioner] has coconut oil, so you can use it as a hair mask. It has dual purposes," Olivia Munn's stylist Cassondra Kaeding explained to E!. Stylist and colorist Stephanie Brown, meanwhile, agrees, telling Marie Claire, "The vitamins and fatty acids in coconut oil help nourish your scalp and penetrates the cuticle of your hair." Further, coconut oil can also help "to remove sebum build-up from hair follicles, which speeds up growth," as celebrity stylist Cynthia Alvarez told the outlet.
While an affordable drugstore hair product infused within a conditioner like this may seem perfect, be wary of using coconut oil directly on your hair. "Hair oils — and especially coconut oil — tend to seep into every tiny hole in your hair shaft and disguise the real problem to act as a quick-fix," as hairdresser Ross Charles explained to Glamour, adding, "This won't help your hair in the long-run and is one of the main reasons I advise against using oils in your hair."
Instead, Charles suggests that if you want to use coconut oil you should use extra virgin coconut oil "which means it doesn't contain bleach or other chemicals that some other formulas contain and that could irritate the scalp."