The One Product Gigi Hadid's Hairstylist Won't Leave Home Without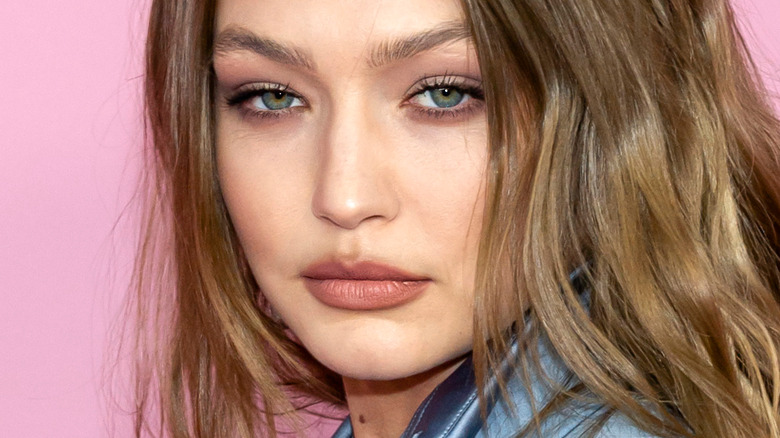 Shutterstock
Supermodel Gigi Hadid pretty much always looks put together, whether she's strutting the catwalk or not. And when Hadid has to have her hair look just right, she works with hairstylist Laura Polko. Polko is a celebrity stylist, who along with Hadid, has done hair for Kim Kardashian, Olivia Munn, and Chrissy Teigen (via People).
She has lots of go-to products as an expert stylist, but her can't-live-without-it item is the GHD Curve 1 Inch Classic Curl Iron (from $149.25). What she likes best about it is that it "gets super hot, and it looks chic. No matter how much product build up is on it, it doesn't stick ... I use it pretty much 80% of the time I do hair" (via Byrdie).
Polko's not the only stylist in love with that curling iron. It's the go-to for Helen Reavey, New York stylist and founder of Act and Acre. "They have done extensive studies into the correlation of heat against elasticity of hair, which concluded in the GHD irons not going above 365 degrees," Reavey explained to NY Mag. "The material allows heat to distribute evenly, creating the perfect wave without damaging your hair."
Laura Polko's got a secret product for texture and volume
Another tool in Gigi Hadid's hairstylist's kit is one she usually keeps to herself: Oribe Swept Up Volume Powder Spray (from $42). "It's one of my secret tool products that I don't normally like telling people about, but that's how I get all my texture," Polko explained. Adding, "It has these fibers in it that really give it a lot of volume and hold and grit at the same time, so it'll really hold whatever you need" (via Byrdie).
Once again, Polko's one among many celebrity hairstylists who love this product. Amanda Capomaccio, who has done hair for Kendall Jenner and Kris Jenner, is also a fan of the powder spray to build volume (via Women's Health). Mark Townsend, who has worked with Gal Gadot and Dakota Johnson, recommends it, too. "It's called a spray, but it's a pump, not an aerosol," he says. "You do one pump, and the powder comes out very, very fine. It's a great one for bangs or when you really need to target an area just at the root for some lift" (via Who What Wear).