Olympian Diana Taurasi's Net Worth Revealed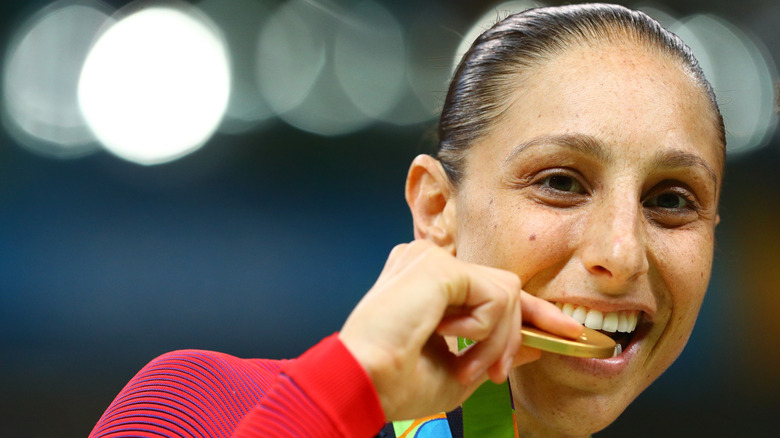 Tom Pennington/Getty Images
Diana Taurasi is the kind of athlete who seems to set a new record each time she plays. As ESPN reported, last month, she became the first WNBA player in history to reach 9,000 points after hitting a layup while getting fouled with less than nine minutes left in the second quarter of the game. Taurasi is already the all-time best scorer in the WNBA, leaving all competitors in the dust (the next closest player, Tina Thompson, has 7,488 points) but she continues to go from strength to strength. 
Taurasi is used to making history at this stage, quipping it was "cool" to hit 9,000 points and reasoning, "It's just another record that hopefully will be broken by someone who loves basketball, who dedicates her whole life." The massive accomplishment was extra special for the returning star, who had been absent for five weeks thanks to a fractured sternum. Next, she hopes to hit 10,000 points, as, "That's when I'll really be happy and celebrate; I might even throw myself a party." 
If the WNBA icon, who's in her 17th season and heading back to the Olympics for a sixth time as part of Team USA, does decide to mark the achievement, she's got more than enough cash to splash to make it really special. 
Diana Taurasi knows what she's worth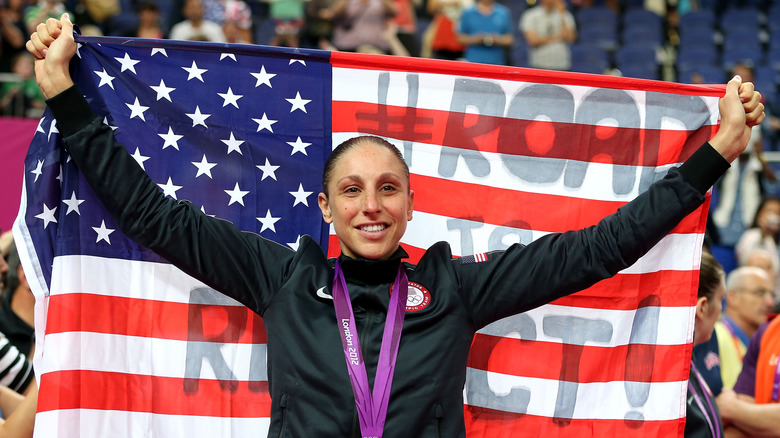 Christian Petersen/Getty Images
Diana Taurasi isn't just an accomplished athlete, she's a smart businesswoman too. In 2015, her decision to sit out the WNBA season to play in the Russian Premier League instead, where Taurasi stood to earn considerably more money, sparked much-needed debate over whether female athletes are paid enough compared to their male counterparts. As ABC News reported at the time, Taurasi made 15 times her salary of $107,000 for the 2014 season to play overseas, banking around $1.5 million overall. Clearly, it was a no-brainer for the basketball star. Although she has plenty left to achieve in her career, Taurasi's got her sights set on a lucrative retirement plan too. 
In 2020, she proudly proclaimed during an Instagram Live session (via ESPN) that, when the time comes to hang up her basketball shorts, she wants to invest in the WNBA and its players. "Everyone is like, 'Do you want to be a coach? Do you want to be a GM'?" Taurasi revealed, opining, "No, I want to f****** own it." As far as the celebrated athlete is concerned, women's sports deserve more support and if she can help, Taurasi is happy to do so. She certainly has the money for it, with Celebrity Net Worth confirming the Phoenix Mercury guard is currently banking an estimated fortune of $1.5 million, earning around $500,000 annually. That number is only going to increase as her star continues to rise, too.