The Truth About Olympian Diana Taurasi's Marriage To Penny Taylor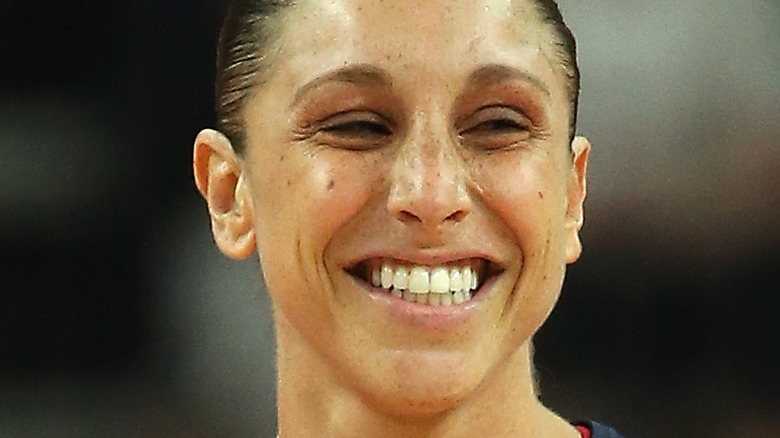 Christian Petersen/Getty Images
Diana Taurasi is a wildly accomplished athlete, recently breaking yet another record in her chosen sport of basketball when, as ESPN reported, she became the first WNBA star in history to hit 9,000 points. The Phoenix Mercury guard is in her 17th successful season, returning after a devastating sternum injury that put her out for five weeks, and is on the cusp of making her sixth trip to the Olympics as part of Team USA, where she'll likely nab another medal in Tokyo.   
She even quipped that scoring 10,000 points would require an actual celebration, suggesting Taurasi's desire to push herself knows no bounds. The celebrated player, who is arguably the GOAT in her field, frequently makes history on the court, but at home, Taurasi is happily settled down with wife and fellow athlete Penny Taylor. They may not be a celebrity duo in the same realm as Jennifer Lopez and Ben Affleck, but suffice to say these two are total couple goals. 
They proudly tied the knot in 2017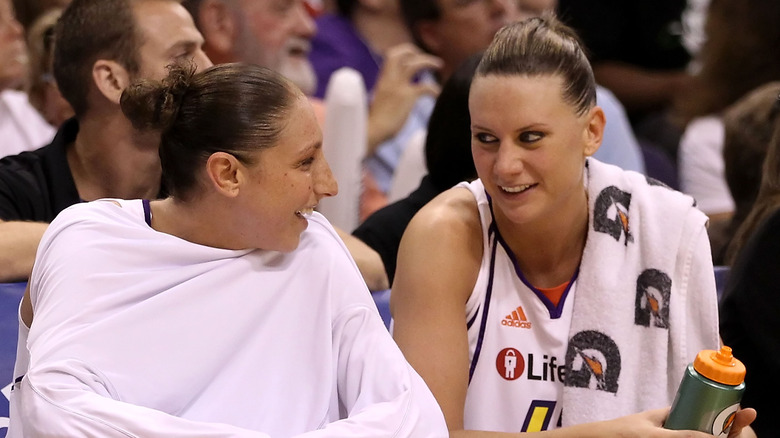 Christian Petersen/Getty Images
Diana Taurasi and Penny Taylor both played for Phoenix Mercury. However, Taylor retired after the 2016 season, as per Arizona Republic. She subsequently became the team's director of player development. The notoriously private couple tied the knot in May 2017, just a day before the 21st WNBA season began. Taurasi described it as "Just an amazing day, one of the happiest days we've ever had." Taylor added that it was "a beautiful day and everything we hoped it would be." 
She also noted, "It was the perfect timing and real celebration of everything we've been through and how we've been professionals and supportive of each other through some really tough years and challenging careers." Taurasi reasoned they wanted to keep the relationship as "our special thing," hence the lack of public info. AZ Central confirmed the happy couple welcomed a baby boy, Leo, in March 2018. A couple years later, AP reported Taylor was retiring to be a full-time mother. 
Diana Taurasi and Penny Taylor are totally committed
Speaking to ESPN in 2017, Diana Taurasi gushed of wife Penny Taylor, "We both found something in each other that made us each a better person, a better teammate. And you don't get to find a lot of people like that in life." Taylor clearly feels the same, sharing, "She expects more of herself than any coach or team ever could." However, she also acknowledged Taurasi's workaholic tendencies. They were together for eight years before getting hitched, with Taurasi noting Taylor helped her focus more on her personal life.
On their decision to make it official, Taurasi said, "Getting married, it gives us a little boost, for the rest of my career, for her coaching career, for our lives together, for our relationship to grow. It's the next progression." They suffered through a long distance relationship while Taurasi was playing in Russia and Taylor in Turkey. However, the WNBA legend opined, "It was commitments and sacrifices like that that made the relationship grow. Because it's like anything: If you don't put the effort in, it just kind of dies."