The Truth About Olympian Carissa Moore's Marriage To Luke Untermann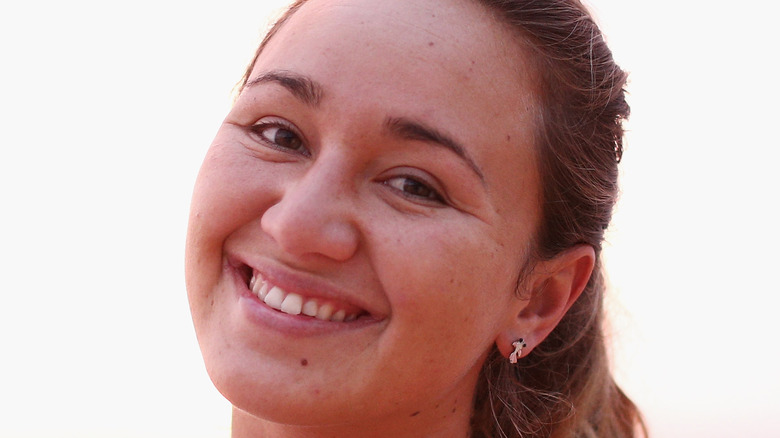 Cameron Spencer/Getty Images
Four-time world champion surfer Carissa Moore (via Olympics) knew she was destined for great things from a young age. "I remember having a conversation with my dad on a car ride home from the beach," she recalled in an interview with Red Bull. "I told him, 'I want to be the best in the world.'" Taught to surf by her father, Chris Moore, off the beaches of Waikiki in Honolulu, Hawaii, he has been Carissa's coach ever since.
The father-daughter team's hard work paid off, and years of surfing before and after school led to Clarissa earning a spot on the surfing Championship Tour with the world's top female surfers as a teen, and won her first world title at just 18 in 2011 becoming the youngest person — male or female — to win a surfing world title (via Olympics). Ten years, and three further world titles later, and this summer Carissa will be heading to Tokyo to compete in the 2021 Olympic games. Along with Carissa for the rollercoaster ride of a high-octane athletic career? Her husband, Luke Untermann.
Carissa and Luke are high school sweethearts
Although you could forgive Carissa for dedicating most of her life to her championship surfing career, she has spent years honing the balance in her life between her life in and out of the water. When she got engaged to her high school sweetheart in 2016 (via Surfer) she began to feel "the whole question of purpose," she told Red Bull. "My biggest goal during the year and a half of my engagement was that I just wanted to know who I was when I walked down the aisle," she added. And it looks like she achieved that goal.
Pro surfer Carissa married her high school sweetheart on the grounds of a friend's Oahu estate on the north Hawaiian shore on December 16, 2017 (via Yahoo). "We're just high school sweethearts who are so excited to be starting this next chapter of our lives together," Moore told The Knot at the time. During their adorable outdoor wedding, Luke vowed "to hug and kiss you every time you walk through the door — even if it's only been five minutes," and in return the 2021 Olympic hopeful vowed to her husband: "I'm not sure I can give you the small football team of children you're dreaming for, but I promise to be the best mother and the best wife." We're not crying, you're crying.