The Truth About The Best Drag Queen Makeup Brands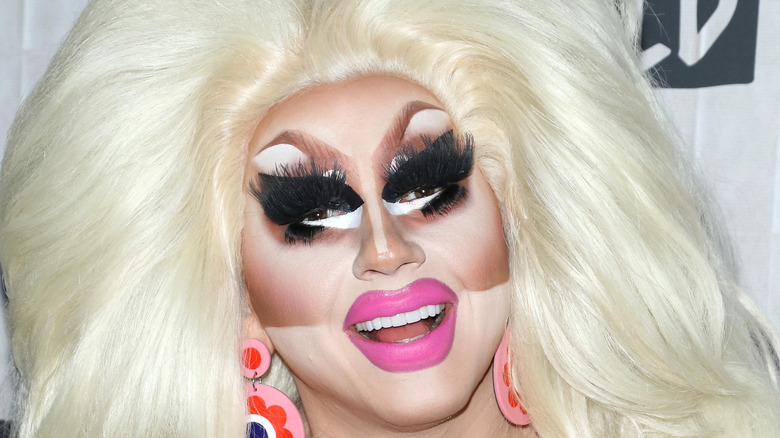 Jim Spellman/Getty Images
Drag queens are some of the best makeup artists. Of course, they have to wear a lot for their gigs and they typically beat their own faces, so they get daily practice. According to Allure, contemporary makeup trends, knowledge, and even products can be attributed to drag culture, though drag queens didn't actively begin being acknowledged for their art, nonetheless their contributions to the makeup industry, until "RuPaul's Drag Race" premiered in 2009. Now, the series has aired an innumerable number of seasons between its flagship series, "All Stars," and its spinoff franchises in North America and abroad.
Because of this, drag queens are becoming increasingly involved in the makeup industry itself, rather than just trendsetting. According to InStyle, cut creases and contouring as we know them today can be attributed to drag artists. Now, these drag artists are not only collaborating with established makeup companies, but also founding their own makeup brands to bring new products to the world and to finally have representation in the field that they've helped build for so many decades.
Queens are typically passionate about makeup not only because they have to wear it daily for work, but because it's the tool through which they get to express themselves. Drag, after all, is about dragging out one's inner persona, and with makeup, you can really manifest any kind of persona you want (and, yes, this pun was intended).
These queens have collaborated with major makeup brands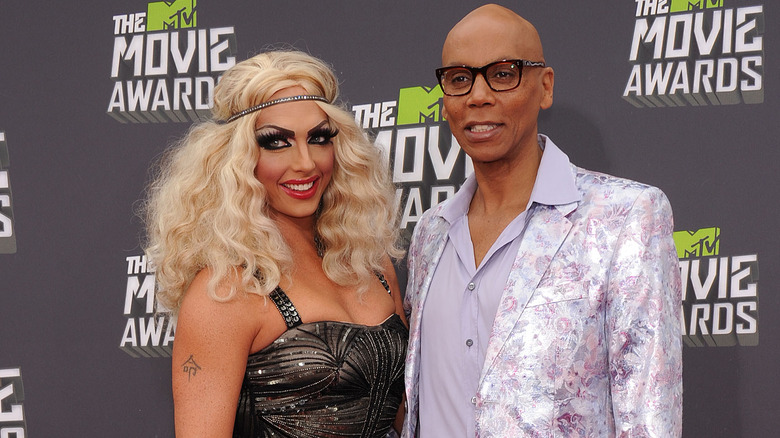 Shutterstock
As drag artistry continues to become increasingly mainstream, more and more makeup companies are partnering with queens to create collaborative products. This has been the case since at least Season 8 of "RuPaul's Drag Race" when finalist Kim Chi partnered with Sugarpill Cosmetics on eyeshadow and liquid lipstick products (via Bellatory).
Furthermore, drag queen Divine partnered with Kat Von D on an eyeshadow palette called "I Am Divine" in addition to specialty lipstick. Then, Obsessive Compulsive Cosmetics partnered with three queens — Willam, Detox, and Vicky Vox — to create a line of six lip tars that had corresponding nail polishes (via Bellatory). InStyle explained that "Drag Race" legend Alyssa Edwards also had her own collaborative project. The dancer worked with Anastasia Beverly Hills on an eyeshadow palette. Finally, Season 10's winner, Aquaria, made a palette with NYX Professional Makeup.
The queen of drag herself has naturally partnered with makeup companies as well. RuPaul worked with both MAC's Viva Glam Campaign and Colorevolution to release makeup products, before later partnering with Mally Beauty in 2019 to release an entire QVC-exclusive makeup collection featuring eyeshadows, blushes, lipsticks, and more (via Allure).
These two queens run their own makeup companies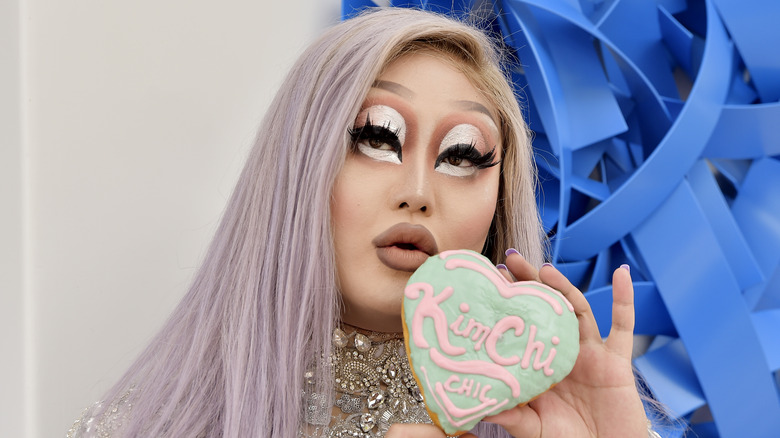 Stefanie Keenan/Getty Images
Outside of collaborations between queens and established makeup companies, queens are changing the makeup industry by putting their money into it in a new way — by founding their own makeup companies. This finally gives drag queens a firm say in the industry, which is incredibly important for representation and diversity. According to InStyle, the two most popular drag queen-owned makeup companies are KimChi Chic Beauty and Trixie Cosmetics. The former comes from "Drag Race" Season 8 finalist Kim Chi, while the latter comes from "Drag Race All Stars" Season 3 winner Trixie Mattel.
Both Trixie Mattel and Kim Chi are known for eccentric makeup that is bold, and their makeup products reflect that. KimChi Chic Beauty sells eyeshadow palettes, fake freckle pens, makeup mirrors, blushes, and more (via InStyle). Kim Chi has even partnered with fellow "Drag Race" alum Naomi Smalls on KCC beauty products. Trixie Cosmetics, on the other hand, is all about exploring colors, which is why they are always releasing new blushes and eyeshadow palettes, though they also sell mirrors, lip products, and even t-shirts.
In both cases, these drag queens are bringing their love for makeup forward, and they're changing the world in style.