The Truth About Olympian Sydney McLaughlin's Relationship With Andre Levrone Jr.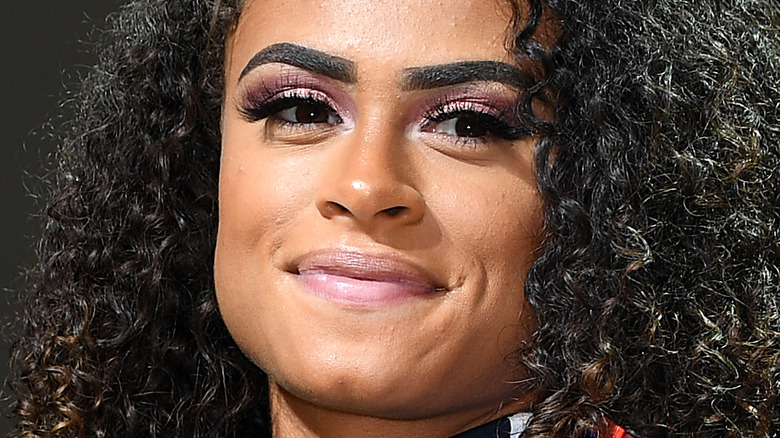 Matthias Hangst/Getty Images
Sydney McLaughlin has quickly made a name for herself as a top contender in the upcoming Olympic Games in Tokyo. So it's no surprise that her many admirers are wanting to know more about her, including the details of her love life. After breaking the record for the women's 400m hurdles during the U.S. Olympic Track and Field Trials in Eugene, Oregon (via CNN), we're learning that the 21-year-old, who first went to the Olympics in 2016 in Rio de Janerio when she was just 16, is passionate about more than her career as a hurdler and sprinter. She's also passionate about God and her boyfriend, former NFL player Andre Levrone Jr.
According to a report from The Focus, Levrone Jr., 26, played the wide receiver position for teams including the Baltimore Ravens and Jacksonville Jaguars before retiring last year at just 25 years old. "Farewell Football," he wrote in an Instagram announcement at the time. "Mannnn, this is the first time in 20 years where the football season has rolled around and I'm not playing. Deciding to no longer pursue a professional football career was a difficult decision, but a necessary one nonetheless."
McLaughlin and Levrone Jr. have been together for almost six months, having first confirmed their relationship in December 2020.
Sydney McLaughlin and Andre Levrone Jr. put God first
In addition to Andre Levrone Jr. declaring that Sydney McLaughlin was "heaven sent" in his Instagram announcement, he and his girlfriend have made it no secret that they've prioritized their faith in recent years. In fact, on McLaughlin's Instagram bio, the Olympic athlete tells her followers, "Jesus saved me," and Levrone Jr.'s Instagram bio reads, "Yet not I, but through Christ in me" and "JESUS IS THE ANSWER."
Meanwhile, on Twitter, a message on McLaughlin's bio declares she is a "child of God," as the background photo reads, "saved by grace," and a note on her boyfriend's Twitter bio reads, "No God, no peace. Know God, know peace." And his background photo contains the text, "God never said the weapons wouldn't form, he just promised they wouldn't prosper."
In 2016, McLaughlin opened up about the role faith has played in her athletic endeavors. During an interview with Catholic News Agency, she said, "Something like track is a very mental sport. There's a lot of pressure and there's a lot of expectation put on you. Sticking to what I know and believing that everything I've been given comes from God definitely played a big role for me."