Why Twitter Can't Stop Talking About Meghan Markle's Animated Netflix Series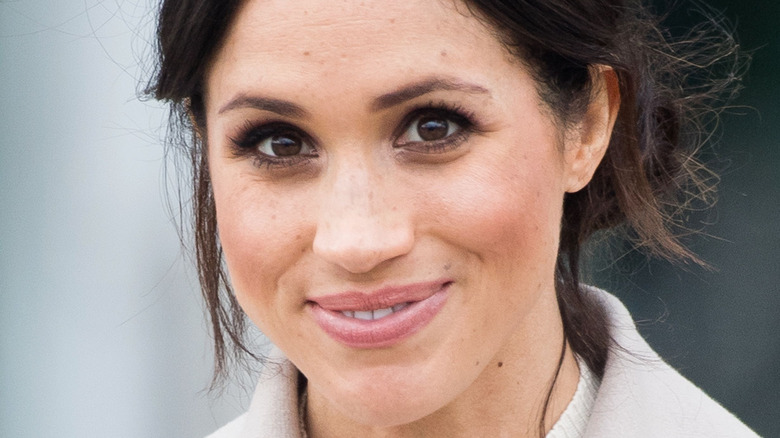 Shutterstock
Meghan Markle is making waves on Twitter after announcing a new project. The Duchess of Sussex revealed plans for an animated series released in partnership with Netflix. The project will be created via Archewell Productions, which she co-founded with Prince Harry (via Harper's Bazaar). Markle will act as an executive producer on the project, currently titled "Pearl."
Markle offered a glimpse into the project's theme and its antagonist Pearl in a press release on the Archewell website. "Like many girls her age, our heroine Pearl is on a journey of self-discovery as she tries to overcome life's daily challenges," she wrote. "I'm thrilled that Archewell Productions, partnered with the powerhouse platform of Netflix, and these incredible producers, will together bring you this new animated series, which celebrates extraordinary women throughout history." 
Per the press release, others involved in the show's creation include the likes of David Furnish, Carolyn Soper, Liz Garbus, Dan Cogan and Amanda Rynda. There's no news on a release date yet; however, fans of Markle are already taking to social media, particularly Twitter, to voice their excitement for the impending project.
The Twitter-verse is ecstatic about Meghan Markle's new project
Shutterstock
Meghan Markle created quite a stir on Twitter with the news. "Words cannot describe how excited I am for this," one user gushed before signing off her tweet with a multitude of smiley faces. 
"This is amazing," another enthused. Many fans flooded Twitter with particularly salient quotes from Markle's explanation of the project. Others celebrated the development and what it means for Markle and Prince Harry.
"Our favs are still thriving," a Twitter user wrote alongside a link to a piece by Hollywood Reporter. 
There was also excitement for the news about Archewell Productions as a whole. One user summed it up quite nicely: "Can't wait to see this Netflix series produced by #MeghanMarkle. I love hearing and reading the title, Executive Producer, for #MeghanMarkle under the Archewell Productions umbrella."
"Pearl" is not the first project created by the Duke and Duchess of Sussex for Netflix under the Archewell Productions canopy. That honor goes to a docu-series about the Invictus games, which was announced back in April (via Deadline). It's also not Meghan Markle's first foray into children's entertainment. She released a book called "The Bench" earlier this year. 
The overall Archewell brand includes a variety of projects including a charitable foundation, which recently announced a partnership with corporation Procter & Gamble.