The Truth About Whether Or Not Mom Jeans Are Back In Style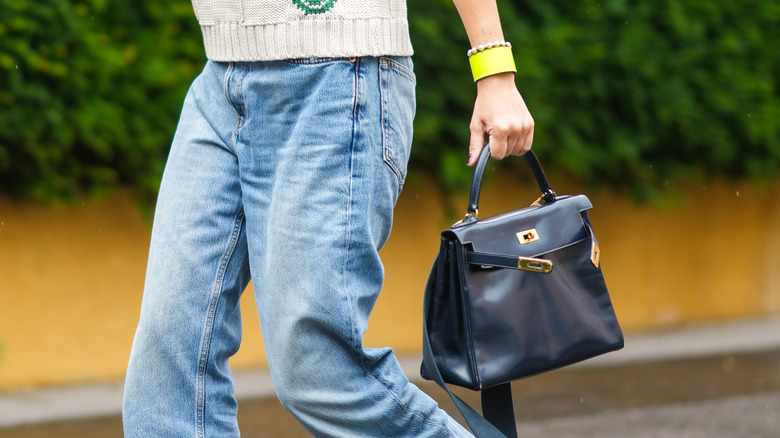 Edward Berthelot/Getty Images
If there's any fashion trend you can rely on to be constantly evolving in American culture, it's denim pants. This is due to their versatility and comfortability that can go with practically any outfit, with a wide range of shades, shapes, decorations, and styles. While the 2000s saw the popularity of low-rise and boot-cut jeans and the '70s had the iconic bell-bottoms (via Insider), there's one unforgettable style that still circles around the American zeitgeist: mom jeans.
A staple of '80s and '90s culture, "mom jeans" are defined as high waisted, straight legged denim, typically with a looser fit (via The Atlantic). Given that they were popular with middle-aged women due to their convenience as opposed to sexiness, they became somewhat of a faux paux for younger demographics (with a clever "SNL" skit hitting the nail in the coffin, solidifying their official label and "uncoolness"). However, with it being common for young people to dress "ironically" (i.e., wearing something "uncool" with the intention to be counter-culture or rebellious, via MarketWatch), are the mom jeans making a comeback?
Yes, mom jeans are totally back in style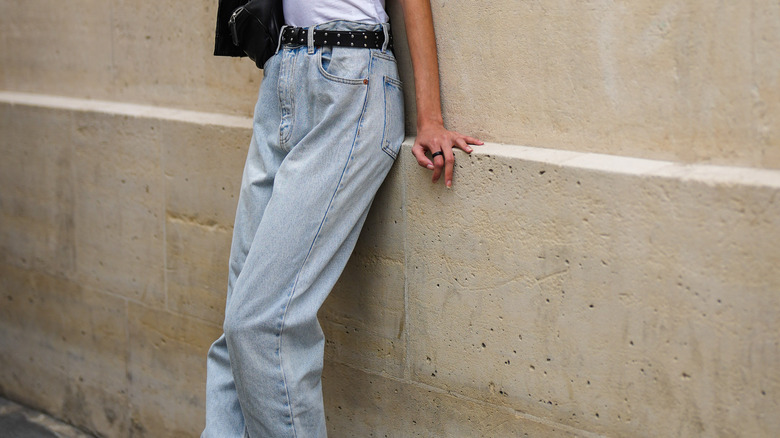 Edward Berthelot/Getty Images
While skinny jeans were all the rage in the 2010s, it looks like the 2020s are starting to do a 180 when it comes to people's denim choices. This is likely because in fashion, it is incredibly common for people to begin dressing in the styles they saw while growing up for nostalgia purposes (via Refinery 29). Given that millennials are classified as being born in the years 1981-1996, it was only a matter of time before mom jeans became trendy again.
But what's the appeal of them in the first place? "Mom Jeans are so comfortable and easy to wear, and offer so many new outfitting possibilities," Lara Knight, VP of denim design at American Eagle told InStyle, adding, "Size up for a looser vibe, or try a longer inseam for a more throwback silhouette."
Today, popular powerhouse brands such as Zara and H&M are advertising a selection of their jeans with the label "mom jeans," their undeniable integration into the mainstream fashion world proving that mom jeans are back and here to stay, at least for a little while.