The Truth About Olympian Alix Klineman's Relationship With Teddy Purcell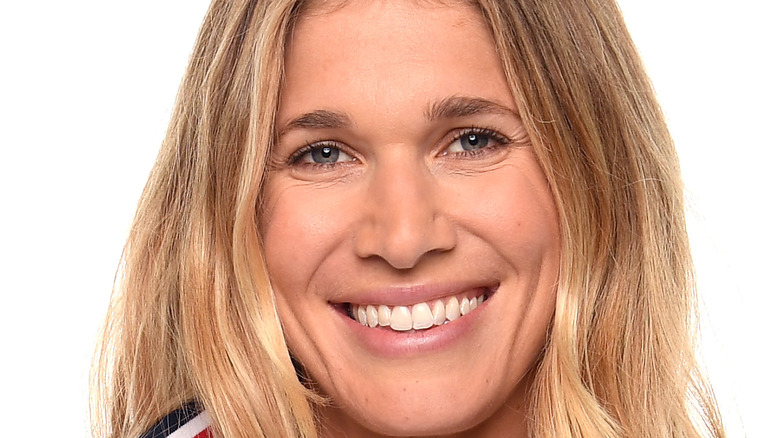 Harry How/Getty Images
Alix Klineman, born Alexandra Rose Klineman, is preparing for more than the upcoming Olympic Games in Tokyo. She's also preparing to tie the knot with longtime boyfriend (and her fiancé of less than one month, as announced on Instagram) Teddy Purcell, a Canadian ice hockey player who enjoyed stints with the Los Angeles Kings, Tampa Bay Lightning, Edmonton Oilers, and Florida Panthers.
According to a report from Glamour Fame, Klineman, 31, and Purcell, 35, were first linked to one another in late 2017, when they were seen in an Instagram photo together. Then, in the months that followed, it became further clear that the two athletes were involved in a romance as they continued to share social media photos with one another, and their many friends and loved ones.
Their love of sports goes beyond hockey and volleyball. In one particular image, Klineman, an indoor volleyball turned beach volleyball player who hails from Manhattan Beach, California, was seen attending a New England Patriots game with Purcell in Boston.
Alix Klineman and Teddy Purcell announced their engagement in June 2021
Last month, ahead of the U.S. Olympic Trials in Oregon, Klineman took to her Instagram page, where she shared some very exciting news. "You and me, FOREVER," she wrote in the caption of a slideshow of photos, the first of which featured her kissing her fiancé while showing off the engagement ring on her right hand.
While Klineman and Purcell don't have any children quite yet, they do share a poodle mix, who is frequently seen in Klineman's Instagram photos. And, in her engagement announcement, the dog was seen looking up at his "mom" and "dad" as they celebrated their relationship milestone.
As of this post, Klineman and Purcell have not yet announced any specific wedding plans. However, according to a report from Celeb Pie, they are planning to get married "soon." In the meantime, Klineman will certainly have her hands full with her Olympic preparation.