Bindi Irwin's Husband Shares New Photos Of Baby Grace With Fans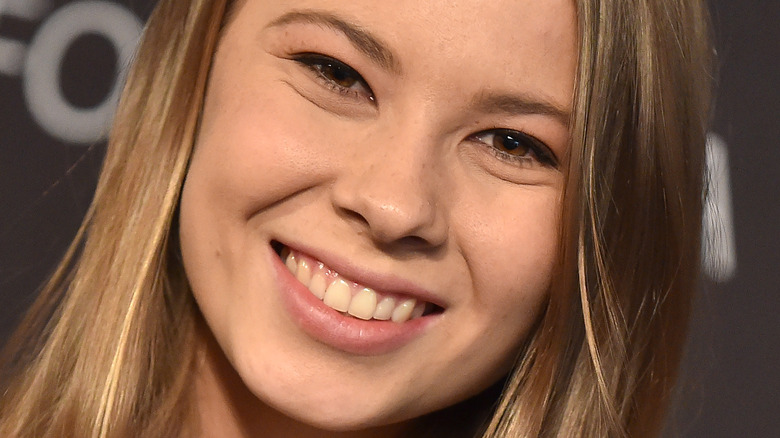 Shutterstock
It has been over three months since Bindi Irwin and her husband Chandler Powell welcomed their first child, a daughter they named Grace Warrior (via USA Today). As the wildlife advocate explained via Instagram about the child's moniker, "Our graceful warrior is the most beautiful light. Grace is named after my great-grandmother, and relatives in Chandler's family dating back to the 1700s. Her middle names, Warrior Irwin, are a tribute to my dad and his legacy as the most incredible Wildlife Warrior."
Since Grace's birth, the proud parents have taken to social media often to take fans along on their journey as a new family of three. Then in June, the Australian announced she would be taking a social media break to be with her "beautiful daughter" and "wonderful family." But recently, the star mom started sharing sneak peeks of her life with Grace again, posting a carousel of sweet images of her "favourite moments this month."
Irwin declared in the caption, "Our beautiful angel has started giggling all the time and absolutely loves nature walks, looking for wildlife with us. Can you believe she'll be 4 months old soon?! Infinite love and gratitude in my heart."
Chandler Powell also shares new images of Grace Warrior
Grace's loving dad also took time to update fans with a series of adorable photos of her (via People). As a caption to the pics featuring the precious baby with him, as well as with her famous mom, and a solo image, Powell wrote, "Smiles over breakfast with this happy little light."
The tot is clearly happy in each image, as well as beyond cute. The family's star friends quickly jumped into Powell's post's comments section to gush over little Grace, with Lauren Zima, who is dating ex-"Bachelor" host Chris Harrison, writing, "The sweetest!!!!"
This is just one of the many posts Powell has shared featuring his little girl — another recent post featured a video in which Irwin sang a song to the infant, who was clearly loving the moment with her mama.
You can also see other fun moments with the family on Irwin's latest Instagram, including a sweet shot of Irwin wearing Grace in a baby wrap, and the little girl meeting a kangaroo — naturally.