How To Style Large Sunglasses For Summer 2021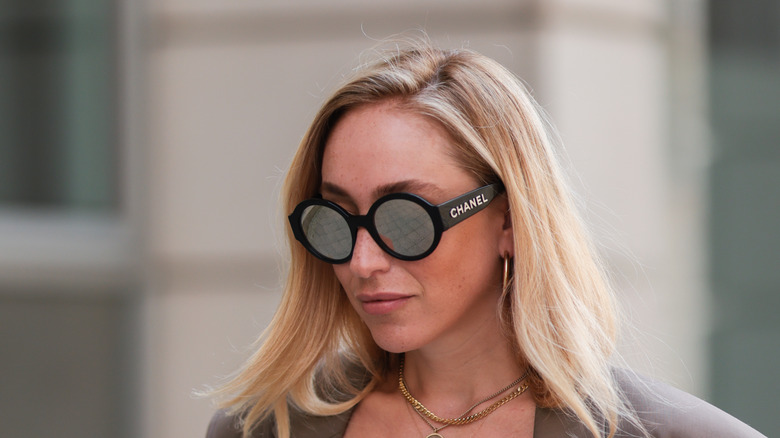 Jeremy Moeller/Getty Images
It's no secret that, while they might be a relatively small accessory, sunglasses have the power to totally transform an outfit. But what might be more of a secret, however, is what sunglasses are making a splash this season. It can be challenging to stay on top of style trends, especially when it comes to the versatility and ever-changing nature of sunnies. That's where we come in. 
The 1990s came and went, and as the decade ended, it took the trend of tiny sunglasses with it. We might have thought we'd never see that trend again — but we were wrong (via Cosmopolitan). In 2018, the trend came back with a vengeance and had a multi-year run. It seemed that everyone and their mom were wearing these tiny sunglasses inspired by the 1990s — but others weren't so sure about it. Even Mindy Kaling tweeted in 2018 saying, "I think we will regret this tiny sunglasses look."
Well, perhaps in an attempt to veer in the exact opposite direction, it would seem that 2021 is seeing a trend that couldn't possibly be more different.
Large sunglasses have appeared in almost every decade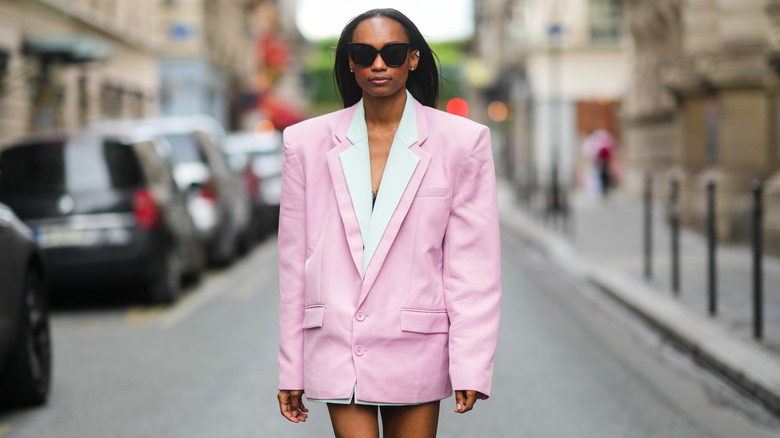 Edward Berthelot/Getty Images
It looks like summer 2021 is being enjoyed from behind a pair of massive sunglasses, per InStyle. Similar to the tiny sunglasses trend, the look of giant sunglasses is a bold statement that allows you to shield your eyes from the sun in style. While some styles of sunglasses are meant mainly for function, this statement piece is a conversation starter that can speak for itself. Vint and York noted that large sunglasses are popular because their overall aesthetic is "classy with a hint of movie star allure."
Large sunglasses are incredibly versatile, as they can take any shape, color, or print. Depending on the shape you choose, you can pay homage to very different eras, as this style has appeared in nearly every decade in its own distinct style (via Vogue). And indeed, depending on your face shape, you can pick a shape of oversized glasses that will suit you and make you feel as flattered as possible.
You can wear your oversized sunglasses as the main attraction of your fit, with a more basic outfit to blend in so your sunnies can be the statement. Or, you can wear them simply for the sake of function, and allow your outfit to stand out while your sunglasses take a back seat. According to InStyle, you can even rock a 1970s inspired look by pairing these iconic sunglasses with "flares, crochet, and fringe."