The Most Popular Styles Of Sunglasses Revealed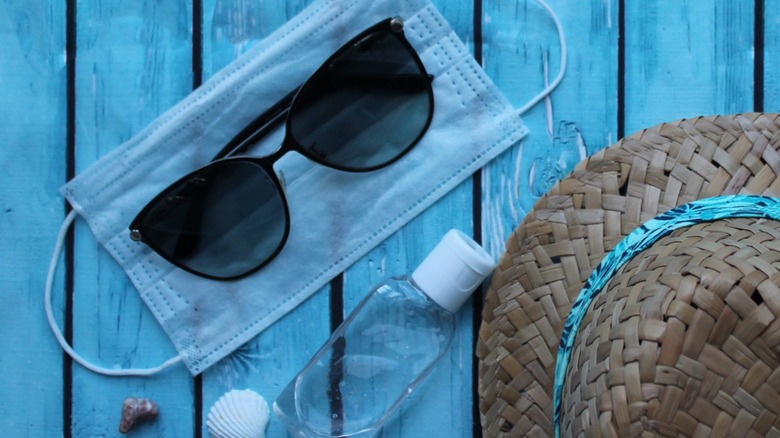 Shutterstock
Having a good pair of sunglasses is imperative for a number of reasons. For starters, they protect your eyes from the sun's UVA and UVB rays, which can not only damage the skin around your eye (including eyelids), but also the cornea and lens, according to the Mayo Clinic. Second, sunglasses play an important fashion role in one's appearance; they can make or break your ensemble at the beach, at the park, or even just while walking down the street. 
The right sunnies will also suit your face shape (check this article out if you have a heart-shaped face, and this one is you have a diamond-shaped face) and highlight specific facial features (or play down others, if that's what you're aiming for). All in all, everyone should have at least ONE solid pair of sunglasses in their bag. And if you live in the United States, you especially need shades during the spring and summer seasons when the sun's UV rays are generally stronger (though it's important to note they can be damaging year round), per the Skin Cancer Foundation.
For these reasons, we have decided to recommend a list of the most popular shade styles for summer 2021 in the hopes of making your shopping a bit more seamless. Read on to discover your new favorite pair of sunnies.
You can't go wrong with these classic styles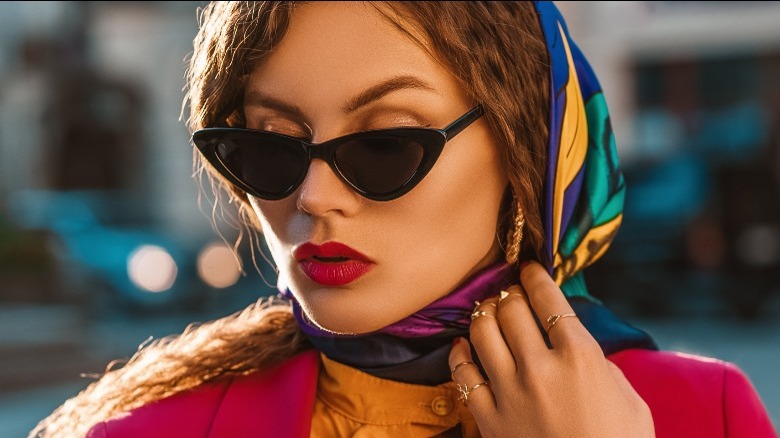 Shutterstock
As with any type of accessory, some shade styles are considered timelessly classic and will seemingly never go out of style. One of those styles is the aviator (you know it, you love it). This style of sunglasses has been around since the U.S. military contracted it in the 1930s (per American Flyers), and popularized by Italian-American luxury provider Ray-Ban. While literally anyone can rock a pair of Ray-Bans as they are uni-sex, people with more angular faces, such as triangular or heart-shaped, would benefit most from this style, according to GQ. If you're enticed, you can pick up a pair of the Green Classic G-15 in Gold ($161, Ray-Ban). Bonus: They're polarized for ultimate UV protection, and can also be manufactured with a prescription. 
Next up in the classics category is the popular cat eye style. The cat eye shades have been around for a while (since the 1950s), but weren't really popularized until 1961 when Audrey Hepburn sported them in "Breakfast at Tiffany's," according to Select Specs. This chic style is great because it's not too plain, but not too flashy, either. If you have a rounder shaped face, then a cat eye style is especially ideal for you because it can help break the softness of your face with its angular lines, according to Coastal. Get this unfailing look with the 55mm Gradient Cat Eye Sunglasses from Longchamp ($185, Nordstrom).
These geometric shade styles are what you've been missing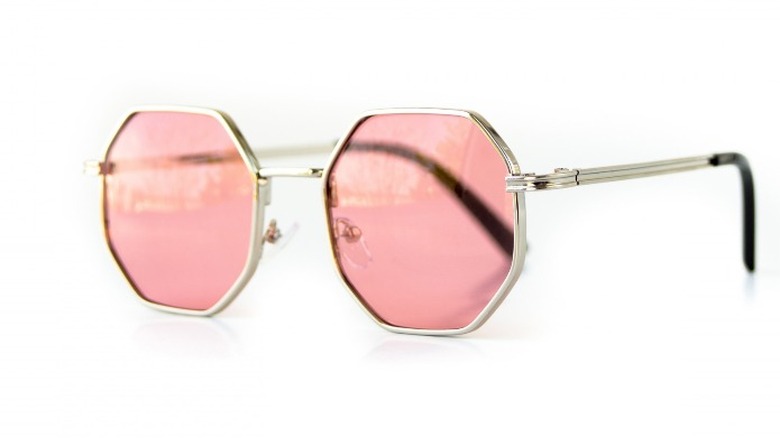 Shutterstock
Geometric sunglasses, which have technically been around since the '60s (though not in the way we know them today, per TheTalko), are not only super edgy in the 2020s, but they're also fashionable to no end. Furthermore, they add a touch of uniqueness that can easily elevate any look. Geometric shades come in a variety of sizes (e.g., oversized, small) and shapes such as octagon-shaped, hexagon-shaped, and slightly round. Similar to the cat eye style, geometric shades' strong angular lines really help to add some contrast to softer features, according to Oprah Daily. 
One of the "must-have" accessories for summer 2021 is Bottega Veneta's 58MM Flat-Top Geometric Sunglasses in Gold ($445, Saks Fifth Avenue), per Forbes. This pair of designer shades features solid lenses that provide 100% UV protection (they had better for that price, am I right?), and adjustable nose pads for a custom and comfortable fit. 
Another highly favored pair of designer geometric sunglasses ( that won't break the bank!) is the Tally 53mm Octagon Sunglasses by CHLOE ($79.97, Nordstrom Rack). These shades feature translucent pink lenses and brown accents, making them the perfect accessory (with the perfect color palette, TBH) for a plethora of summertime outfits.