The Truth About Lamar Odom's Surprising Confession About Khloé Kardashian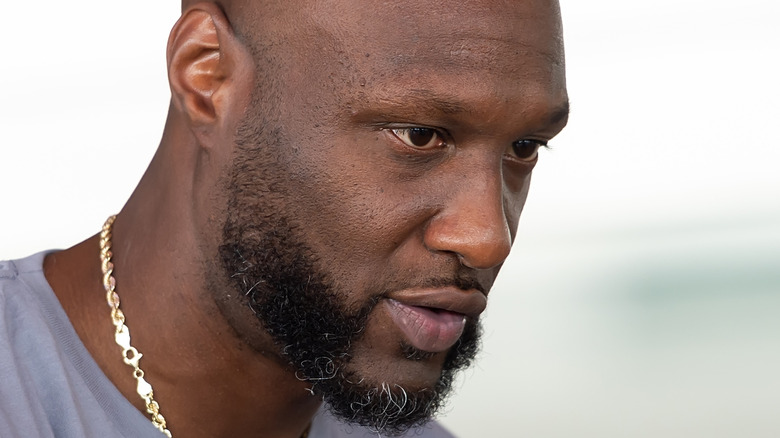 Gilbert Carrasquillo/Getty Images
Last week, Khloé Kardashian's exes, Lamar Odom and Tristan Thompson, made headlines when they got involved in a heated exchange that started in the comments section of the reality star's Instagram post (via E! News). 
After Kardashian shared a steamy bikini pic of herself on social media, both Thompson and Odom left flirty messages. Later, after Thompson learned that Lamar had called Kardashian a "hottie," he responded by saying, "@lamarodom God brought you back the first time. Play if you want, different results," seemingly referring to Odom's 2015 drug overdose.
At the time, TMZ revealed that Odom left the comments on his ex-wife's photo in hopes of grabbing Kardashian's attention. The outlet claims that the former LA Laker still carries a torch for Kardashian and was hoping that he might be able to reconnect with her now that she and her baby daddy Thompson had called it quits. This week, Odom sat down for an interview with "The Megan Pormer Show" and made a surprising confession about his feelings for Kardashian. He also shared his thoughts about Thompson during the sit down.
Lamar says he still loves Khloé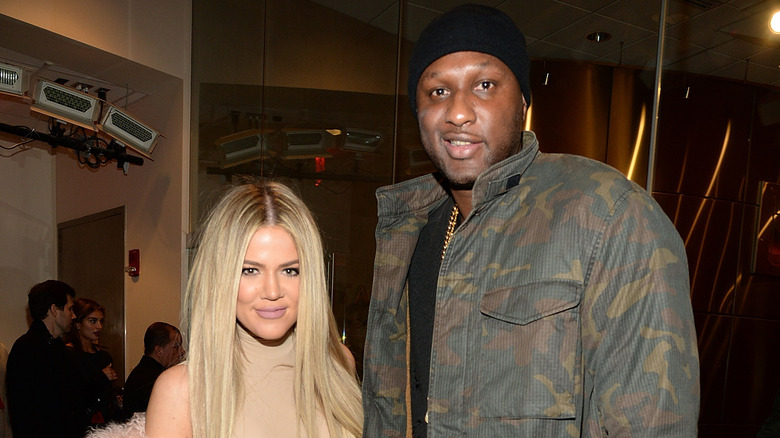 Kevin Mazur/Getty Images
According to The Daily Mail, Lamar Odom revealed during the interview that he stills loves Khloé Kardashian and would get back together with her "in a heartbeat" if he could. "We'll see if she gets back with me, that's the bigger question," Odom admitted. The former NBA player also went on to explain that he's grateful that Kardashian was there for him following his near-fatal overdose in 2015 despite the two going through a divorce at the time. "She was there during a rough time for me," Odom stated. "I love her."
Odom also touched on his beef with Tristan Thompson. He confessed that the duo's social media war "could have turned ugly," but admitted that he and Thompson are linked because of their NBA ties. As for Thompson's cheating scandals involving Kardashian, Odom admitted that he doesn't want to judge Thompson as he's also been down a similar road. However, he wishes that Thompson never would have cheated on the woman they both love.
Meanwhile, E! News reports that Kardashian has "no interest" in reconnecting with Odom. "Khloé will always have a sweet spot for Lamar in her heart but has no interest in rekindling a romantic relationship," an insider stated. However, the source says that Kardashian "has completely moved on from that chapter. [Lamar] has tried to reach out and get her attention and Khloe just laughs it off. She has a lot going on and it's just not her focus."