The Truth About Lindsay Lohan And Raven Symone's Time As Roommates
You probably know Lindsay Lohan from her iconic roles in movies like "The Parent Trap" and "Mean Girls," but did you know that she once lived with "That's So Raven" alum Raven-Symoné? While they're both former Disney stars, it's always baffling to hear about the personal lives of celebrities crossing paths in unexpected ways. "We clicked because we did the fashion shoot together, she was cool," Raven said in a 2010 in an interview with Global Grind in 2010.
Both celebs have had their fair share of time in the spotlight, garnering the attention of fans and critics alike. Speculation about Lohan's sexuality and interest in Raven's marriage to Miranda Maday have appeared in the headlines, and both have opened up about the difficulties of being in the spotlight at a young age.
In the time since they lived together, Raven has come to Lohan's defense. After actor Jennifer Lawrence "took an offhand dig at the embattled star's longtime history with drugs and alcohol," Raven had this to say about her former roommate on "The View" (via Entertainment Tonight), "She has had problems in her life from family to work, and again, nobody ever believes me, but people in the industry have problems too."
It sounds like these days, Raven harbors no ill will toward her former roomie, but what their relationship like back in the day?
Raven-Symoné and Lindsay Lohan's time as roommates was short-lived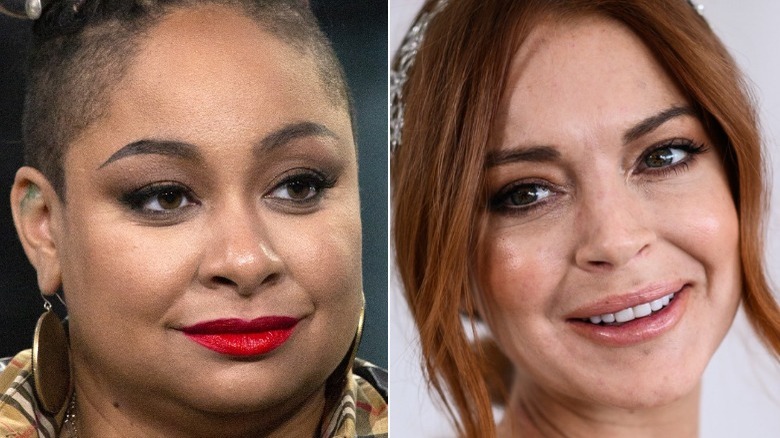 Santiago Felipe, James Gourley/Getty Images
It was apparently Raven-Symone who proposed the roommate arrangement. In her 2010 interview with Global Grind, she revealed that she told Lohan, "I know you're not going to college right now and I'm not going to college, so let's have a roommate experience." However, when the two shared an apartment, they actually did not see much of each other. 
In 2008, Raven told US Weekly, "She paid rent, and she was there probably three times." Apparently, the apartment was more of a closet for Lohan. "She had her clothes in the apartment we were supposed to live in together." In addition to all her clothes, Raven told Global Grind that Lohan also had "great shoes," explaining, "She left all her shoes in the house, she like dropped off all of her clothes. I was [like], man! I'm a good roommate because I would have worn them." She made sure to add, "I didn't wear them, Lindsay."
While it doesn't seem like Lohan and Raven are in touch anymore — at least, not publicly — we'll have to stay on alert to see if the pair ever cross paths again. After all, it certainly seems like Raven wouldn't mind walking a mile in Lohan's shoes — literally.