Of All Donald Trump's Tweets, This One Got The Most Backlash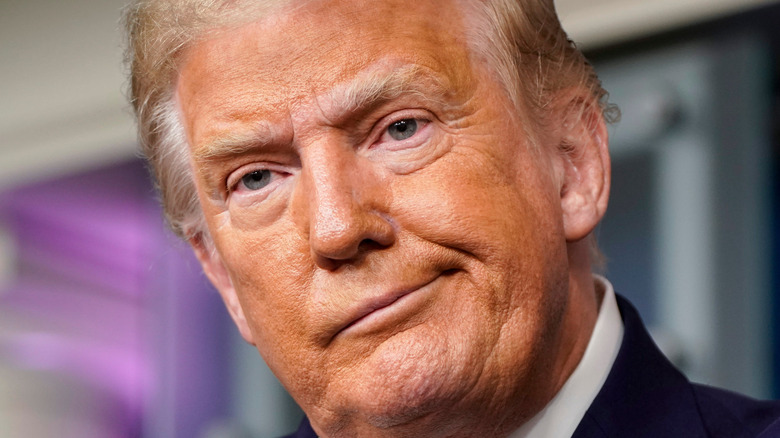 Shutterstock
For many, it seemed that former president Donald Trump ran his presidency via tweet. After all, the prolific Twitter user — who is banned from the social media platform as of this writing — sent out his first tweet on May 4, 2009, nearly seven years before he was inaugurated as president. Between that first tweet and when Twitter suspended him on January 8, 2021, Trump sent out 59,553 tweets and retweets, according to Tweet Binder.
In May 2020, The Washington Post estimated that the former president spent the equivalent of 10 full days as president just tweeting if you add up all his tweets and the approximate time it takes to create and send one. According to Statista, Trump tweeted 3,500 times in 2018, 7,700 times in 2019, and 12,000 times in 2020. Many of his tweets could change a news cycle in a flash during his presidency, but there was one tweet toward the end of his only term in office that received the most backlash — it came after he contracted COVID-19.
Donald Trump survived COVID-19 and his tweet caused fury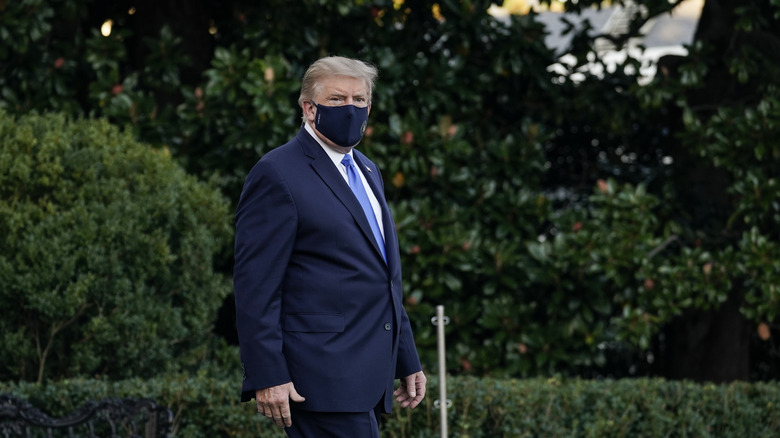 Drew Angerer/Getty Images
On October 2, 2020, Donald Trump tweeted that he and Melania Trump had tested positive for COVID-19. The diagnosis came after a party at the White House welcoming Supreme Court nominee Amy Coney Barrett in which people didn't wear masks or social distance. In fact, Dr. Anthony Fauci, the director of the U.S. National Institute of Allergy and Infectious Disease, called the party a "superspreader event," according to NBC News.
By the end of the day on October 2, Trump was airlifted to Walter Reed Medical Center where he spent the weekend receiving treatment. He returned to the White House after just a few days on October 5 when he appeared on a balcony after ripping off his mask, but before his arrival he tweeted the following:
"I will be leaving the great Walter Reed Medical Center today at 6:30 P.M. Feeling really good! Don't be afraid of Covid. Don't let it dominate your life. We have developed, under the Trump Administration, some really great drugs & knowledge. I feel better than I did 20 years ago!"
According to SkyNews, that one tweet created more backlash than any of his thousands of previous tweets over the course of a decade.
Donald Trump's tweet seemed to down play the severity of COVID-19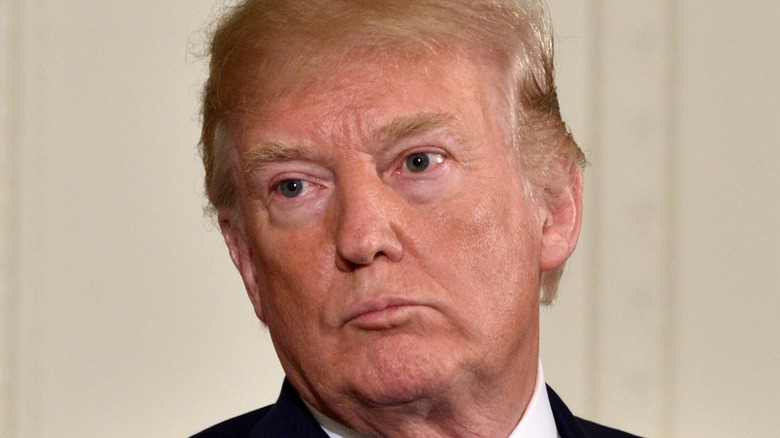 Shutterstock
While Donald Trump did seem to bounce back from COVID-19 quickly, his tweet telling people not to be afraid of the virus made many believe the president was downplaying what the novel coronavirus could do to a person. Indeed, he seemed to double down that sentiment later in the evening on October 5, tweeting, "One thing that's for certain: Don't let it dominate you. Don't be afraid of it. You're going to beat it. We have the best medical equipment, we have the best medicines, all developed recently. And you're going to beat it." At the time Trump sent that tweet, 210,000 Americans had died from COVID-19 since early 2020 when the pandemic first began, according to CBS News. As of this writing, about 624,000 Americans have died due to COVID-19 (via Worldometer).
While Trump did receive excellent medical treatment in the form of monoclonal antibodies, it was still an experimental treatment reserved for a few in October 2020. Even as of this writing, it is still not widely available and can only be administered through infusion in a hospital-like setting (via USA Today). In addition, it is only said to be effective if given within 10 days of first symptoms, according to the University of Pittsburgh Medical Center.
Sky News also reported that Trump's top five most controversial tweets while in office were also regarding COVID-19.