The Truth About Paris Jackson And Cara Delevingne's Relationship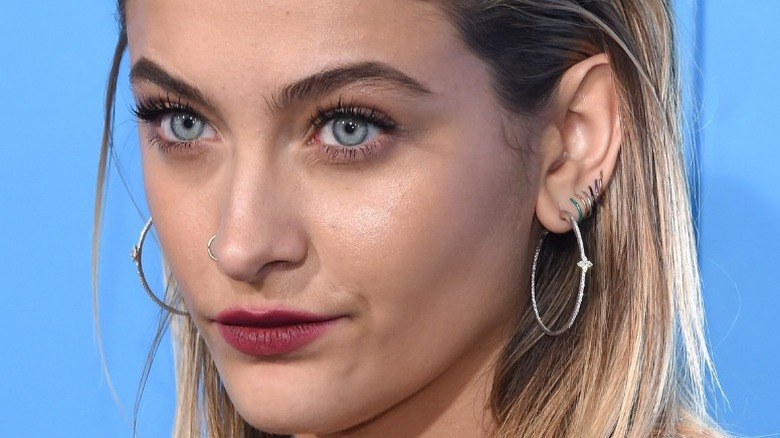 Emma Mcintyre /ama2020 & Jon Kopaloff/Getty & Shutterstock
Paris Jackson, daughter of the late Michael Jackson, and supermodel Cara Delevingne are no strangers to the spotlight. Both Jackson and Delevingne were forced to face the generational fame that accompanied their family names, whether they liked it or not. After reconnecting with birth mother Debbie Rowe, Jackson went on to follow in her father's footsteps, creating a burgeoning modeling and music career (via Best Life Online.) But growing up with her Jehovah's Witness grandmother made it difficult to embrace her sexuality.
Jackson came out as bisexual when she was 14 and, in a 2021 Red Table interview, she revealed that her identity has never been fully accepted by her religious family members. "My family is very religious and a lot of, like homosexuality, is very taboo, so we don't talk about it," she said (via People). "There were moments where it was really hard. You feel alone."
Meanwhile, Delevingne was dealing with her own obstacles across the pond, including depression and anxiety. Though she was born into a high-class London society family full of aristocrats, baronets, viscounts, debutantes, and millionaires (via Social Gazette), Delevingne revealed in a 2015 Vogue interview that she "never enjoyed" the upper crust life. Luckily for Delevingne, she went on to pave her own way, making a name for herself as a supermodel, actress, and entrepreneur. 
Since reaching the height of her success, Delevingne has come out as pansexual, telling Variety "I fall in love with the person — and that's that. I'm attracted to the person." 
Paris Jackson and Cara Delevingne have a romantic history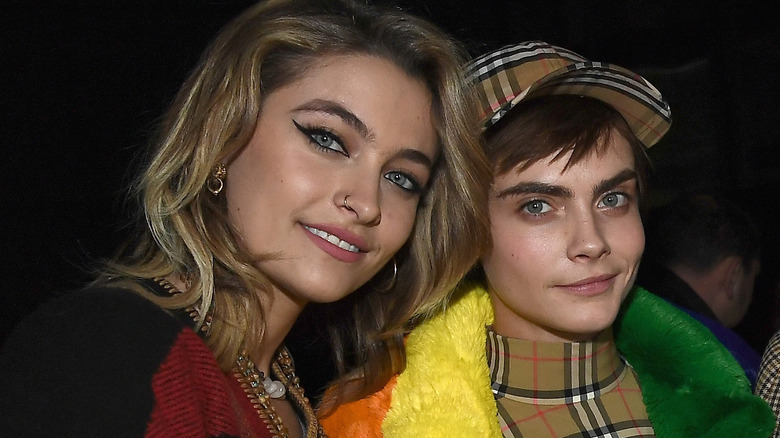 Gareth Cattermole/Getty Images
Paris Jackson and Cara Delevingne's parallel childhoods, sexualities, and careers brought them together, forming a lasting friendship, but there was a time when the two models crossed into romantic territory. According to Page Six, rumors regarding Jackson and Delevingne's relationship first began in 2017 when the two were seen leaving a nightclub holding hands. One month later, Delevingne invited Jackson to be her "guest of honor" at the Christmas Burberry X Bash in London, where the couple was caught trying to sneak out of the event together, only stoking more romantic rumors.
Social media posts, like the duo sharing a quiet evening while cuddling in bed and watching the movie "Carol", officially had fans convinced that Jackson and Delevingne were an item (via Instagram). But the final indicator was just days later when the two were spotted kissing on what seemed to be a double date with Macaulay Culkin (Jackson's godfather) and Brenda Song.
Following rumors of their tryst, Jackson went on to date Gabriel Glen until 2020, and Delevingne began her almost two-year relationship with Ashley Benson. It appeared that the duo's relationship had returned to strictly platonic, but there may be hope for a rekindling.
In April 2021, paparazzi caught Delevingne and Jackson leaving an Oscars after-party together "laughing and smiling."Caris" fans might just find their happily ever after!