The Real Housewives Of New York Rumor That Changes Everything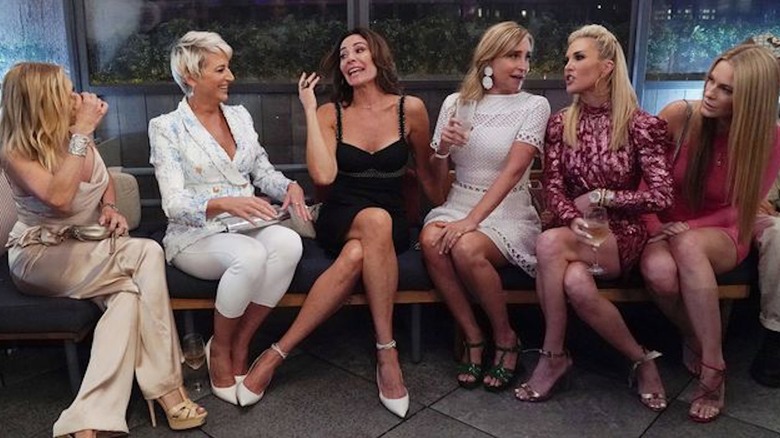 Bravo
Season 13 of "The Real Housewives of New York" is currently airing on Bravo, but its ratings are suffering. As reported by the Daily Mail, last week's episode was the lowest-rated ever with just 764,000 viewers tuning in live. And based on what sources told the outlet, things just might be even more dramatic behind the scenes than they are on camera. "All hell is breaking loose behind the scenes at the 'Real Housewives of New York,'" the source said. "While the cameras are down, the drama is continuing." Five production sources told the Daily Mail that the reunion has been pushed back from August 5 to a still-undetermined date in September. Yikes.
This year's cast is comprised of OG member Ramona Singer, along with LuAnn de Lesseps, Sonja Morgan, Leah McSweeney, and Eboni Williams. It is Williams' first season on the show and she is the first Black cast member. Per People, a lot of this season's conflict has been between Singer and Williams. Singer has shied away from any conversations about politics or racial inequality in America, which has left Williams feeling frustrated and disrespected. Williams isn't the only cast member who Singer has clashed with this season, though. She's also taken issue with McSweeney for openly speaking about sex (via People).
Rumors of a casting shakeup are swirling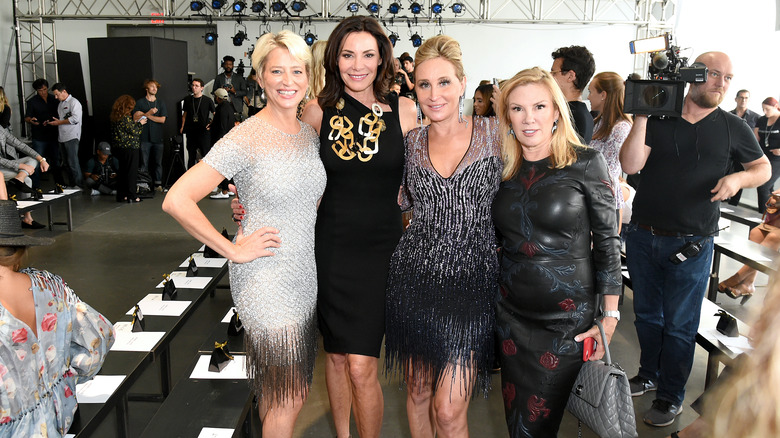 Yuchen Liao/Getty Images
"The ['Real Housewives of New York'] cast is completely divided and the women are not getting along with each other," a source told the Daily Mail. The source largely blamed Williams for the tension and plummeting ratings, saying that, "Our viewers don't want to be lectured to. They want a fun show — tipsy, middle-aged women with money fighting about petty stuff. Yes — let's talk about the important issues facing our nation — but this cannot be the center of our show."
For her part, Williams denied being the cause of the ratings dip. "My answer is simply this. A — I'm a little bit of a preacher and I wear that as a badge of honor. And I'm a little bit of a teacher, too," she told Andy Cohen on a recent episode of "Watch What Happens Live" (via Page Six).
The current cast isn't working, but it sounds like Williams isn't the one on the chopping block. Rumor has it that Singer may be fired, as reported by Page Six. The outlet noted that Singer responded "no" to a fan on Instagram who asked if she's been fired. But a source told Page Six that Season 14 hasn't even been announced yet, therefore no decisions about casting have been made. So although it's true that Singer hasn't been fired, it could still happen. We'll just have to wait and see.