Why Wearing Sandals Can Be Good For Your Feet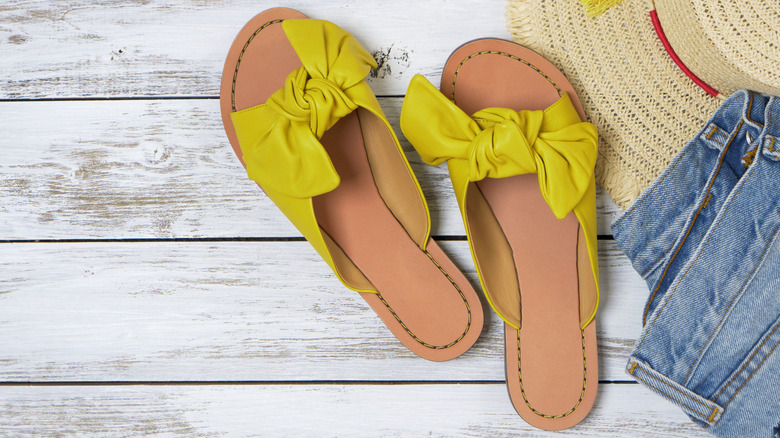 Shutterstock
Summer is here which means it's time to ditch the winter boots for something more weather-appropriate: sandals. What's more, there are several benefits that come with wearing sandals beyond looking cute.
The first benefit of this type of footwear is that sandals are extremely breathable. This characteristic helps prevent conditions like athlete's foot or ingrown toenails, which are exacerbated when wearing closed, tight shoes, according to Stacy Resnick, DPM, a coordinated health podiatrist writing for Lehigh Valley Health Network. Being breathable also makes sandals the perfect footwear to keep your feet cool, especially during a hot summer day, which ultimately can help to lower down your overall body temperature.
Another benefit of wearing sandals, especially flip-flops, is that they require little to no setting up time, which is much different from footwear with laces. Flip-flops (aka slippers) are perfect for walking on the beach or around the pool since they provide protection against the hot sand and wet floor without getting ruined. This said, while there are clearly benefits related to wearing sandals, there are also issues to keep in mind.
Beware of these feet problems you might get from wearing sandals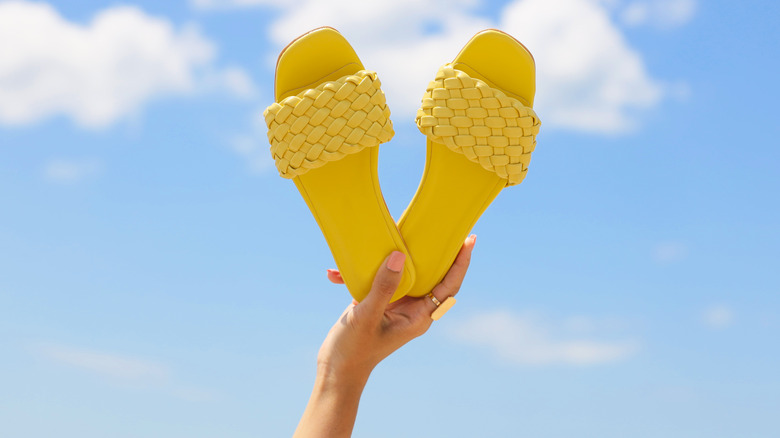 Shutterstock
Flip-flops are one of the most popular types of sandals because they are cheap and versatile, especially for a day at the pool or the beach. However, experts want you to be cautious when wearing them. According to the American Podiatric Medical Association, flip-flops aren't good for walking long distances or playing sports because they have little shock absorption and arch support which can lead to injury.
On this note, people with diabetes should be especially cautious of the shoes they wear. Diabetes can cause peripheral artery disease which reduces blood flow to the legs and feet and the ability to feel pain in those areas. Therefore, a diabetic person is at risk of having a foot injury and not noticing it until it's too late and amputation is required.
"(People with diabetes) really need the protective function of something that covers their toes. I'd much rather see them in Crocs or something that has a covering on top," said Jim Christina, director of scientific affairs for the American Podiatric Medical Association (via WebMD).