The Cellulite Cream Padma Lakshmi Swears By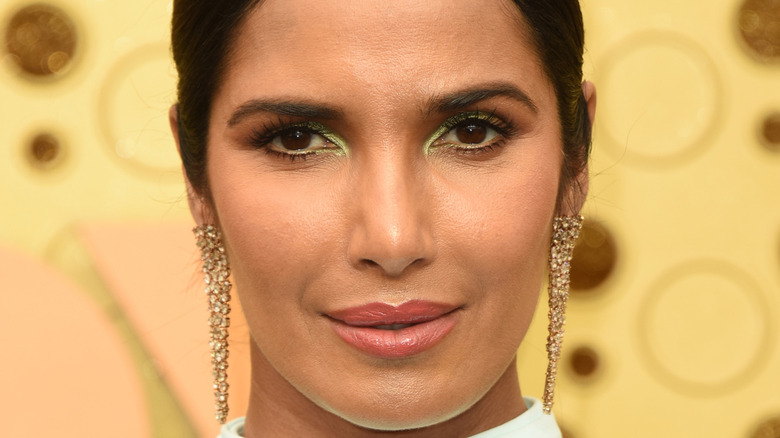 Shutterstock
Padma Lakshmi has established herself as an expert on all things food-related. Having written multiple cookbooks, including a New York Times Bestseller, and been a huge driving force as both producer and host of the reality TV juggernaut "Top Chef," the Emmy-nominated star rarely needs any introduction in foodie circles. However, the Indian-born model also is often sought out for her beauty secrets, which she very graciously shares with the masses. One of those is her secret weapon in the war against cellulite.
Mayo Clinic describes cellulite as a "harmless skin condition that causes lumpy, dimpled flesh on the thighs, hips, buttocks and abdomen," and goes on to point out something most women already know: that it is very common. How common? Asma Ahmed, a dermatologist in New Jersey, told Repeller only 2% of women will manage to avoid ever getting cellulite. Mayo Clinic makes it clear that despite its association with weight, genetics play a huge role, and even fit people can struggle with the less than smooth skin it leaves in its wake. That should make it less surprising that even gorgeous leggy supermodels like Lakshmi are on the hunt for a solution. 
Lakshmi has embraced body positivity in the past, even regarding her cellulite. Per StyleCaster, she even once posted an Instagram Story photo captioned "Hey stretch," which proudly displayed her own stretch marks. While she is proud of her body, she also likes to reduce the appearance of her cellulite. This is how she does it.
Padma Lakshmi uses this under $20 product to fight cellulite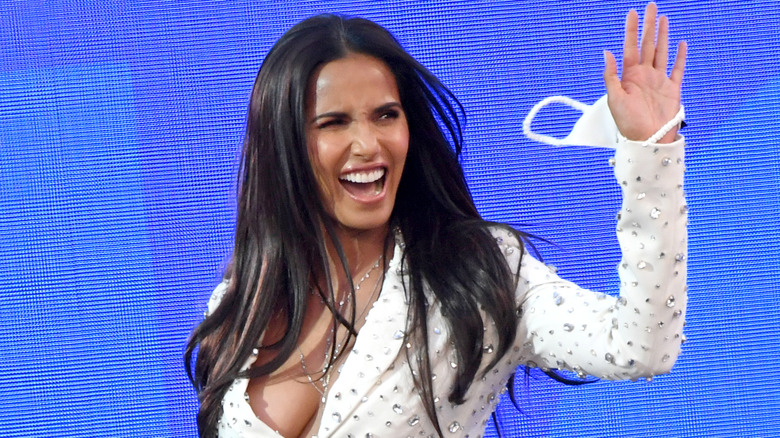 Kevin Mazur/Getty Images
When it comes to cellulite, Padma Lakshmi told Byrdie that she had resorted to face creams that got too costly — even for her — to use regularly for the large surface area of thighs. But never fear, she found a formidable weapon that won't break the bank. 
"One that I think is equally good and actually does more for your thighs and stomach is something called Hot Cream," she revealed. According to maker Pure Body Naturals, Hot Cream, which retails under $20, it is not only great to "reduce the appearance of cellulite, stretch marks, and loose skin," but they claim it can also help temporarily relieve muscle pain.
The ingredient list is heavy in essential oils, many of which Healthline lists as used to treat cellulite. But since essential oils are so potent, those with sensitive skin should proceed with caution — and be careful where it goes on the body. The "Top Chef" host even recounted a particularly rough experience she had using the product when she was in a rush. " ... One time I was putting it on my thighs and I had just gotten out of the shower. I wasn't dressed and I was hurrying, and I kind of grazed my vag, and it was very, very, very uncomfortable, to say the least," she told Byrdie. She also warned that if you have a similar mishap, you'll just have to wait it out — as a wet cloth only made matters worse. Yikes!