Here's How To Dress Up Sweats For Going Back To Work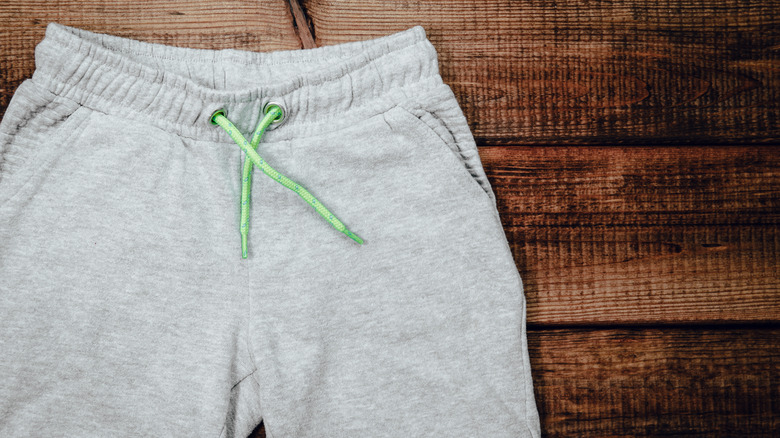 Shutterstock
It's no secret that the pandemic and quarantine has caused us to put our dress pants and jeans in the far back of our closets. From the day that we've been on lockdown until now, many of us have switched our wardrobe for sweatpants and comfortable attire. Not to mention, we've all been putting on that COVID-19 weight like we were freshmen in college, because what else were we supposed to do all day long if not lay on the couch and snack? 
Now, however, with COVID-19 rates declining and companies opening their offices back up, people are returning to work at staggering rates (via NBC News). Returning to the office could be a nice switch, but it'll be hard to say goodbye to our best friends for over a year and a half — our sweatpants. If you're anything like us, we're not 100% ready to put our sweatpants back in the drawer and switch them back out for our slacks and dress pants. 
If you're still looking for a way to incorporate those comfy sweats into your work wardrobe, there are a few tricks you can use to dress them up for back to the office. 
Add these stylish pieces to dress up your sweatpants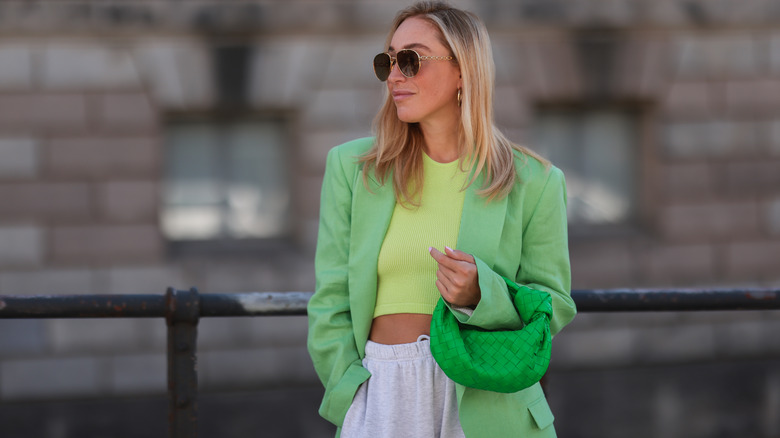 Jeremy Moeller/Getty Images
Wearing sweatpants to work is usually frowned upon, but there are ways to dress them up and make them look classy and professional without anyone truly noticing your comfy vibe. First, you want to make sure your joggers are more fitted than baggy. Baggier sweatpants can look pretty sloppy and that's something you definitely want to avoid at work. 
One way to dress up sweats is to pair them with a stylish and oversized blazer. Pairing your joggers with a fitted tank and a statement suit jacket can make your outfit look more polished and chic (via Insider). Another way to dress up sweatpants is to concentrate on your shoes. You'll want to avoid wearing sneakers at work, as it'll draw attention to the sweats. Instead, try wearing a heeled sandal or even booties with a small heel for a professional look (via Marie Claire).
Another great tactic in order to get away with wearing sweats to work is to draw attention to other parts of your outfit. Wearing a glamorous accessory like a statement necklace or a handbag can draw attention away from your bottoms. Also, put effort into doing your hair and makeup so that you're able to look put together while still totally comfortable (via Insider). Now all we have to do is figure out how to date again in a post-COVID world — we're all in this struggle together.