What Is Blue Beauty, And Why Should You Start Using It?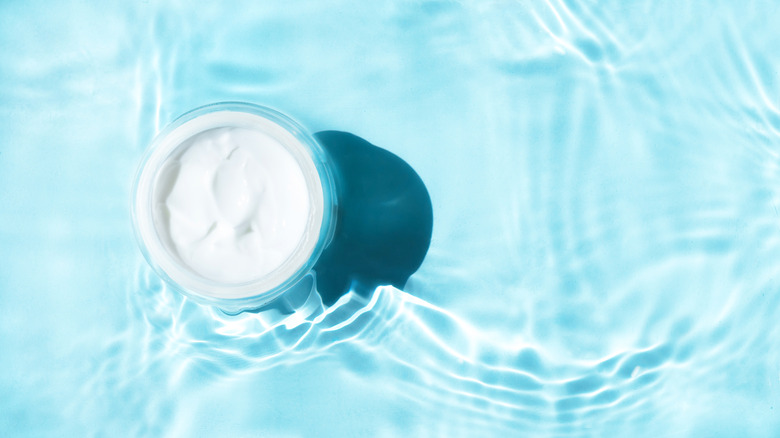 Shutterstock
We may receive a commission on purchases made from links.
So you're already a fan of clean beauty, and you've heard the term "green beauty" tossed around a time or two. But have you heard of blue beauty? According to Cosmopolitan, it's the next big thing in the ever-evolving sustainability movement, so you better become acquainted soon. The magazine describes it as a subsection of clean beauty that focuses on the ocean and everything in it. Is the name starting to make sense now?
At its core, the blue beauty movement is all about reducing the amount of plastic that ends up in our precious oceans. The obscene amount of plastic waste in our waters is nothing short of problematic — to all forms of life (including you!). And the beauty industry of old is one of the foremost culprits. "Each year, the beauty industry makes over 100 billion cosmetic packages — compacts, jars, bottles, etc. — and about 22 billion single-use sachets too," Mia Davis, VP of sustainability and impact at Credo Beauty, told Cosmopolitan. "The vast majority of these are made of virgin plastic and cannot be recycled either." Thus, this kind of debris stays in our waterways for years, not only harming marine life but accelerating climate change as well.
Thankfully, those championing blue beauty are actively coming up with solutions to keep both the beauty industry and marine life alive and well.
Here's what blue beauty brands are doing to protect our oceans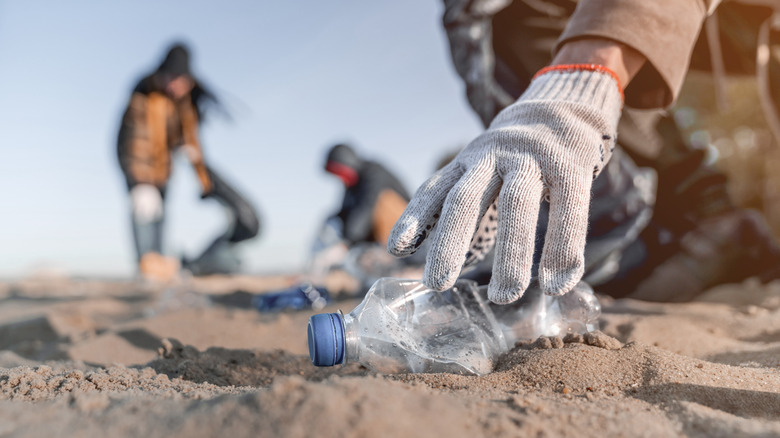 Shutterstock
One creative solution blue beauty brands have recently undertaken is using both ocean-bound plastic (which refers to any plastic found within 30 miles of the coastline) and ocean-waste plastic (which refers to any plastic found within the sea itself) for their product packaging (via Cosmopolitan). The process of turning these materials into the new tubs and bottles that house your favorite beauty products isn't a simple (or cheap) undertaking, but several brands have jumped right in.
Such products include Kinship's Supermello Hydrating Gel-Cream Moisturizer, which you can find at your local Ulta. Another great choice is Captain Blankenship moisturizing Sea Shine Shampoo, which is sulfate free, organic, and vegan and can be purchased on Amazon. If you really want to go all-out with the ocean theme, you can hit up Sephora to find REN's atlantic Kelp and Magnesium Anti-Fatigue Body Wash, which is packaged in 100% recycled plastic, 20% of which was once ocean-bound or ocean-waste plastic.
If you want to turn your beauty routine blue, here's what you can do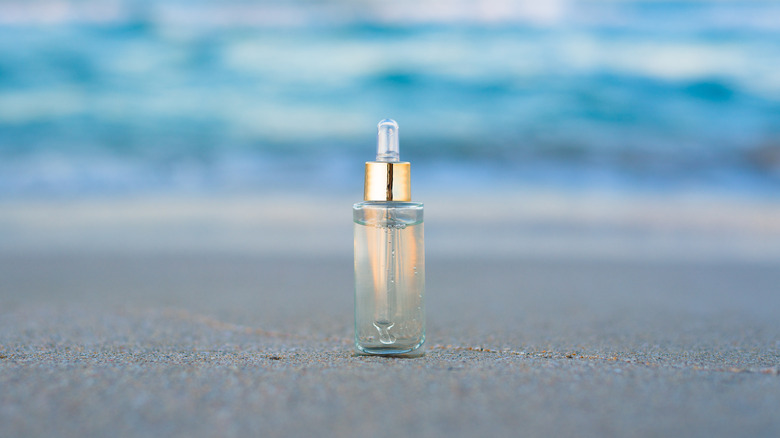 Shutterstock
Aside from using ocean debris for packaging, other steps taken by other blue beauty brands include using environmentally friendly ingredients, low-waste methods of production, and biodegradable materials (via Cosmopolitan). According to Slice, some of the top brands making these shifts include Laurel Skin, EiR, Meow Meow Tweet, Honua Skincare, and One Ocean Beauty. Opting for brands like these allows you to play a small part in fighting climate change.
But another big thing you can do to ensure your beauty routine is ocean-friendly is to ditch single-use plastics once and for all. Yes — this includes those single-use face masks that tempt you while you wait in line to checkout. Product samples are another no-no, but there's one more type of single-use plastic that may be littering your bathroom floor as we speak: cotton buds
According to the World Wildlife Fund, plastic cotton buds are one of the biggest culprits. Their statistics state that 1.5 billion cotton buds get produced each year and the average person throws away 415 of the things annually, most of which end up in the ocean to be swallowed by marine wildlife. Some blue alternatives include ear washes, bamboo cotton buds, or reusable silicon swabs. You have options! So get going and go make your bathroom as blue as it can be — all the fish in the sea will thank you for it.