How To Replicate Yara Shahidi's Natural Emmys Look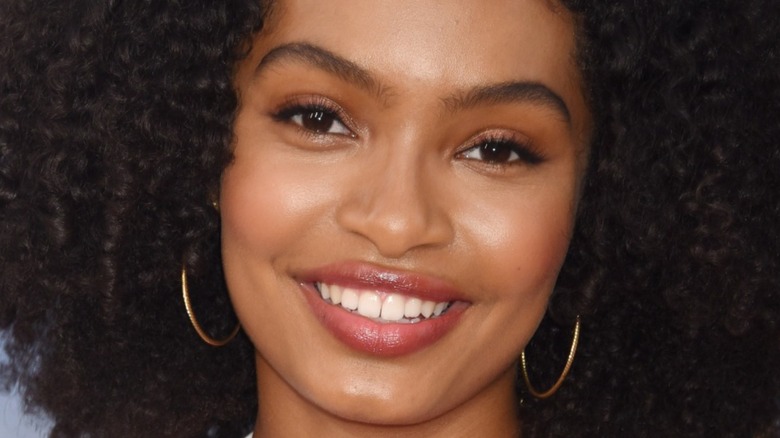 Shutterstock
Actor and activist Yara Shahidi is more than just a storyteller. Long before she captivated audiences in her role as Zoey Johnson on ABC's "Black-ish" (via IMDb) and earned her executive producer title on its spin-off "Grown-ish" (via Variety), she fought to make social change. Shahidi regularly uses her voice and platform to spark empathy and raise awareness on social issues, including founding WeVoteNext (formerly Eighteen x 18) in 2018 to get more young voters registered and become more informed in politics (via Bustle). 
Per People, Shahidi's beauty philosophy is just as rooted in her activism, and she began collaborating with Clean & Clear in an effort to combat the beauty industry's long-standing lack of diversity. The "Sun is Also a Star" actor told Byrdie that her Black and Iranian American heritage plays a big role in her skincare routine. "There is this focus on skincare and having a great base that I've learned from both sides of my family," she explained. "That starts with eating well, and using cardamom to cleanse is part of it." 
In an interview with Vogue UK, she broke down her everyday beauty routine. "Day to day ... if I'm doing anything, I'm doing my brows, I'm moisturizing my face, and I have lip gloss on. I'll have combed my unibrow. I'm shining," she shared. "I love concealer and foundation, but that's usually when I'm fancier and out and about for an event." Here's how you can copy one of her standout beauty looks.
Yara Shahidi's sun-kissed glow was on full display at the Emmys
Yara Shahidi's glamorous dress at the 2020 Emmys Awards had so many details embedded into it that her makeup artist, Emily Cheng, decided to go the opposite route for her makeup. For Shahidi's entire look, Cheng told E! that she played up the fun vibe coming from the dress' dual texture of gems and feathers. "Yara's outfit had beautiful embellishments and feathers, which made for a very sophisticated, yet playful dress," she shared. "To keep in line with this, we kept things simple, and I wanted her features to shine and shimmer the same way. I subtly embellished her eyes and lips so that just like the gems on her dress, they would catch the light."
To get Shahidi's no-makeup makeup look, first she applied Bite Beauty's Changemaker Supercharged Micellar Foundation in shades T105 and T135 to contour her face, opting to put T135 in the spots that would be highlighted by the sun (E!). The dark mascara and winged eyeliner gave Shahidi's golden aura a more edgy feel to it. Cheng finished off the look with Bite Beauty's Yaysayer Plumping Lip Gloss in both the Cider Donut and Sugar Drizzle shade.
In four simple steps, you can replicate this sun goddess' beauty routine.