Chrissy Teigen Had A Stunning Plastic Surgery Transformation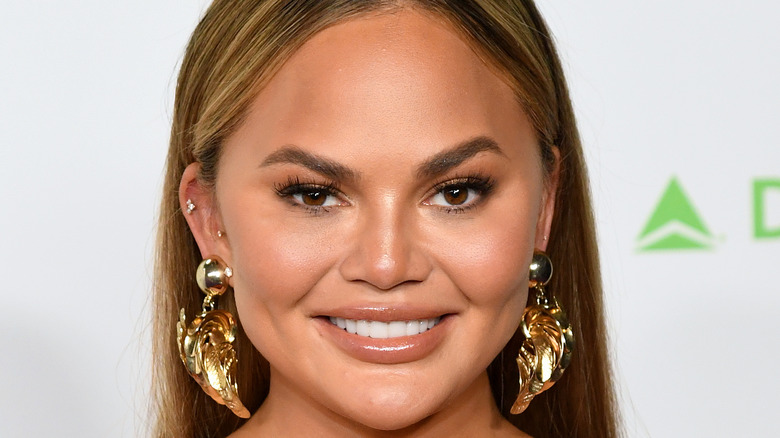 Kevin Mazur/Getty Images
If there's one thing that fans absolutely love about Chrissy Teigen, it's her tendency to be incredibly honest with the public. In fact, she has had a huge hand in starting something of a revolution of celebrities showing a more raw side of themselves that remind us all that they really are just like us. Teigen left us absolutely shook when she shared photos to social media of her inner thighs covered in hives and "fun stretchies," referring to her stretch marks (via Us Weekly). 
While it seems like a simple gesture, Teigen's choice to share these kinds of photos reminds people that even actresses and Sports Illustrated models have body imperfections, which is refreshingly honest. And indeed, over the years, her honesty has extended past just her views of her body, including confessions of postpartum struggles, the death of her dog, issues with alcoholism, fears about infertility, and more (via SimpleMost). And, perhaps most notably, she shared the incredibly raw experience of the death of her baby during labor, per Harper's Bazaar, a traumatic event the public did their best to support her during.
Most recently, Teigen has taken to social media yet again to open up about an aspect of her life that she has only previously teased about.
The model joked that her cheeks are the only real part of her body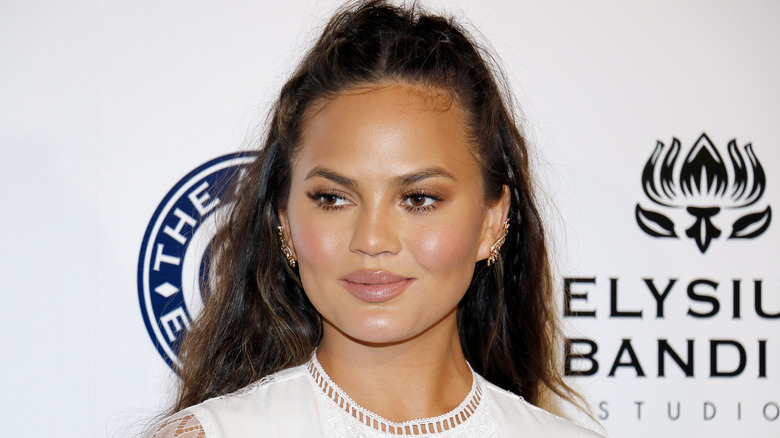 Shutterstock
In classic Chrissy Teigen style, the "Lip Sync Battle" star left us all laughing after an interview with Byrdie, where she discussed her relationship with plastic surgery. She explained that everyone always asks if her (adorably round and supple) cheeks are real. "Everything about me is fake except my cheeks," she joked, pointing to her forehead, nose, and lips, saying "fake, fake, fake." As much as we love Teigen's dry sense of humor, we can never tell if she's joking or not. A few days later, she tweeted, "Reminder to never ever joke, ever (I did do the armpits, no regrets except it clearly came back)," per The Skincare Edit.
But there is one surgery that Teigen has been quite honest about. According to Glamour UK, she got breast implants many years ago. "I did my boobs when I was about 20 years old," she confessed. "It was more for a swimsuit thing. I thought, if I'm going to be posing, laid on my back, I want them to be perky!" But she feels very differently these days.
Chrissy Teigen shared photos of the aftermath of her surgery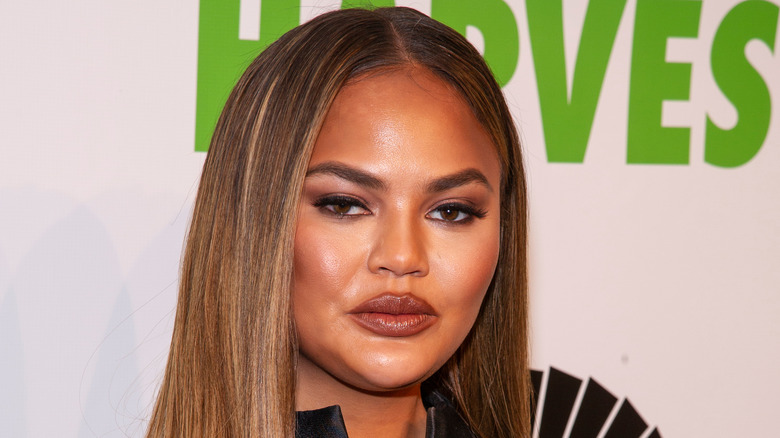 Shutterstock
In May 2020, Chrissy Teigen revealed that she no longer wanted her breast implants and would be having them removed. "Hi hi! So I posted myself getting a covid test on the twitter, as I'm getting surgery soon," she shared on Instagram. "A lot of people are understandably curious (and nosey!) so I'll just say it here: I'm getting my boobs out!" She explained that while she enjoyed them for the many years she had them, she was officially "over it" and wanted to be able to "zip a dress in [her] size," as well as lay comfortably on her stomach. "So don't worry about me! All good. I'll still have boobs, they'll just be pure fat. Which is all a tit is in the first place. A dumb, miraculous bag of fat," she explained in the most Teigen of ways (via Glamour).
She proceeded to share photos to social media here and there, joking that many people didn't believe she was actually going through with the surgery. She posted photos of the scars that the surgery, which many colloquially call "explants," left her with (via Insider). As of publication, Teigen recently found herself in the spotlight due to accusations of bullying online — time will tell if she can return to social media with the same humor and casual approach.