Inside Chrissy Teigen's First Instagram Appearance Since The Courtney Stodden Controversy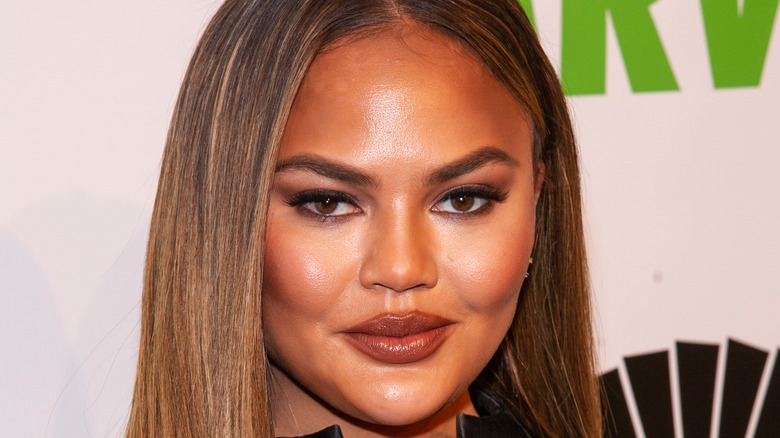 Shutterstock
She's back! Just like her quick return to Twitter after quitting in March and coming back in April, it seems Chrissy Teigen is back on social media (via Elle). However, the reason for the model and TV personality's most recent departure is a bit more serious than too much "negativity." In fact, it was Teigen's own negativity toward other people that caused her to step away. 
Back in May, it was alleged that the "Cravings" author had not only cyber-bullied Courtney Stodden in the past, but had also "privately DM'd [them] and [told them] to kill [themselves], saying things like, 'I can't wait for you to die,'" according to Page Six. From there, it was also revealed that Teigen had also bullied Lindsay Lohan and "16 and Pregnant" star Farrah Abraham. Since the backlash, Teigen has stepped away from all social media after first posting an apology to Stodden on Twitter on May 12. 
Teigen showed up for Luna's first recital
It would take a special family moment to bring Chrissy Teigen back into the public eye. On June 5, the model appeared in an Instagram post shared by her husband, John Legend, according to The Daily Mail. In celebration of their daughter's first dance recital, Legend posted a photo of Teigen and Luna together with the caption, "So proud of our little dancer" (via Instagram). 
The last time Teigen posted to her own account was on May 11, with a recipe from her upcoming third "Cravings" cookbook (via Instagram). Along with her break from social media, Teigen has also stepped away from a voiceover role in the second season of Netflix's "Never Have I Ever," according to People.
Some of Teigen's fans think she has taken enough time away, and should return to social media. Many have even commented things like, "Tell Chrissy to come back! We miss her" on Legend's Instagram post. 
Whether it's the time or not, Stodden has seemed to accept Teigen's Twitter apology saying, "I accept her apology and forgive her." However, it seems they have not actually "heard from [Teigen] or her camp in private." 
According to OK! Magazine, it's going to take a bit more time before Hollywood officially accepts Teigen back in. A source said, "The general feeling is her career and reputation will take more hits before things get better."