The Affordable Sneakers Celebrities Have Been Wearing All Summer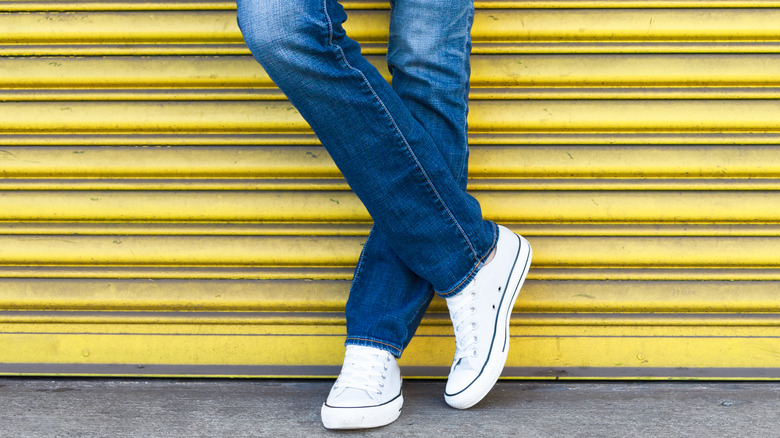 Shutterstock
If you're like A-list celebrities Olivia Rodrigo, Kourtney Kardashian, Addison Rae, and Kendall Jenner, sneakers are probably a staple of your wardrobe. According to a Yahoo! Life report, celebs wear the surprisingly affordable Converse brand of tennis shoes when they enjoy casual outfits around town. During the 2020 presidential election, Vice President Kamala Harris also often wore the casual kicks, opting for them instead of high heels many times during her campaign (via Oprah Daily). She even wore them for her photoshoot for the Vogue cover. "Throughout time, our iconic All Star sneakers have shown up in moments of progress, change, and creativity," the company said (via WWD). 
WWD revealed that interest in the iconic sneaker brand spiked after Harris' Vogue cover, so it makes sense that celebrities added them to their wardrobes. With prices starting around $52, Converse may be within easier reach than other celeb trends. While you might already own a few pairs, or you're looking to buy your first, there are a few things to consider when styling these trusty shoes.
Here's how to style Converse sneakers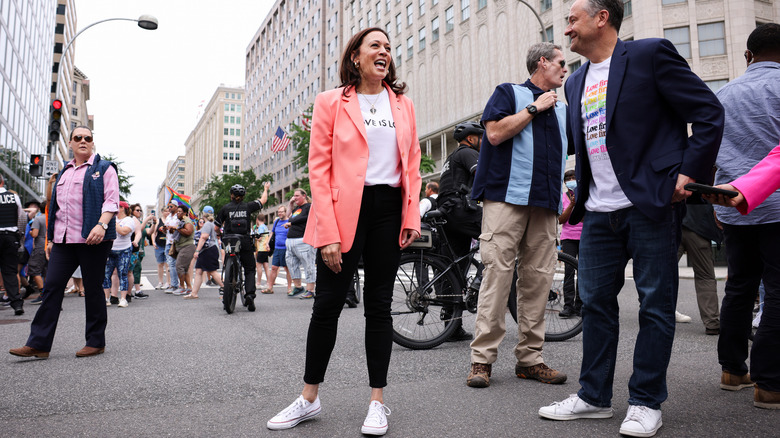 Anna Moneymaker/Getty Images
From old-school high-tops to low-tops, the Converse brand of sneakers comes in a variety of styles, colors, and price points (via Yahoo! Life). With so many options available, it is easy to pair Converse with nearly any type of outfit. For example, Vice President Kamala Harris told The Cut in 2018, "I have a whole collection of Chuck Taylors: a black leather pair, a white pair, I have the kind that don't lace, the kind that do lace, the kind I wear in the hot weather, the kind I wear in the cold weather, and the platform kind for when I'm wearing a pantsuit."
InStyle created a guide for styling the tennis shoes with a variety of outfits, many of which you might already have in your closet. The magazine noted that the style staple pairs well with every type of outfit. The brand's low tops work well with jeans and a blazer, while high tops pair better with a tapered, above-the-ankle pant. Long skirts and dresses along with mini skirts also work, and you can either color coordinate or use the trendy shoes to add a pop of color. Even formal gowns can work with Converse. It seems that the only limit to what goes with Converse is your imagination.