How To Replicate Jennifer Aniston's Makeup Routine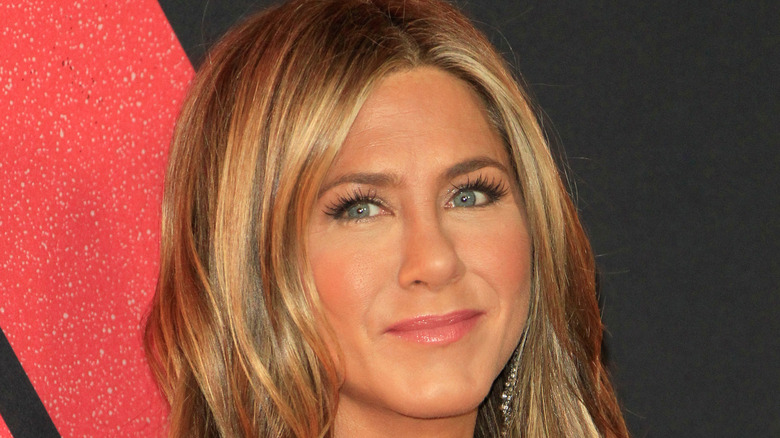 Shutterstock
Okay, so you got "The Rachel." Now what? Well, why not recreate Jennifer Aniston's makeup routine, too. After all, if you did the hair, you might as well follow Aniston's transformation and go all in on her makeup look. 
So, here's your first (and only) step: according to Marie Claire, keep it natural. The "We're the Millers" actress told the outlet that her routine is pretty simple, mostly consisting of mascara and a nude lip. "If I could only have five makeup products in my makeup bag, they would be mascara, lip balm, a good lipstick," she said. "I like Charlotte Tilbury K.I.S.S.I.N.G Lipstick in Penelope Pink, Clé de Peau Beauté concealer and a rollerball of one of my fragrances so I can reapply on the go."
While her makeup routine might be simple, Aniston's skincare regime certainly is not. According to Hello!, skincare is big for the actress. She even uses an at-home facial device that prices for over $495. Pricey, right? But, according to her, the benefits are ah-mazing. "I have never seen such a result from a little machine like that," she said about the ZIIP Nano Current Device from Melanie Simon.  
Want more Aniston beauty secrets? We've got everything you need to know. 
Jennifer Aniston's beauty secrets extend past her skincare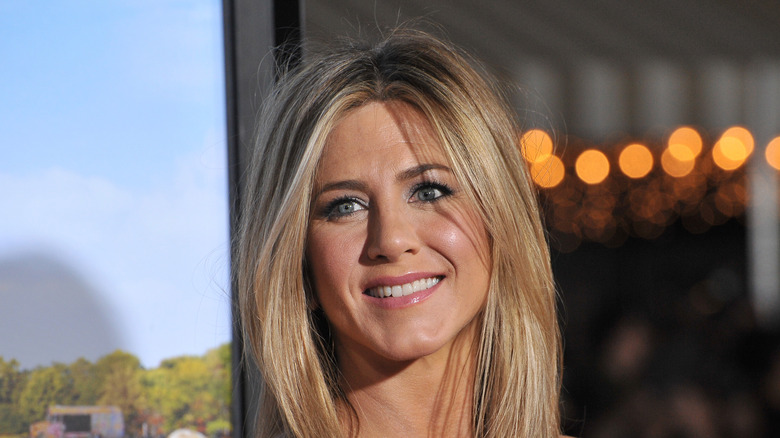 Shutterstock
Along with her skin, managing the health of Jennifer Aniston's hair is also important (via Marie Claire). Aniston sings praises for the Olaplex hair mask, which she uses once a week so her hair maintains its strength against heating tools. Fun fact: her hairstylist Chris McMillan, who created "The Rachel," actually recommended the product to her, per the outlet.
Oh, remember when we said she's obsessed with skincare? Yeah, if you thought the nearly $500 at-home facial device was a lot, think again. The actress also undergoes infrared saunas ... yes you definitely read that right (via Shape). "I have an infrared sauna that I fell in love with," she said to the outlet. "It's such a game-changer in terms of your skin detoxification and cell rejuvenation. So, I do [that] a couple [of] times a week right after I do the gym. I've noticed a real change in my energy, and my sleep, and my skin."
Not all of Aniston's skincare routine is too crazy, though. She also uses drugstore products like the Aveeno hydrating facial, which she said gives her "​​dewy, glowing, twinkling skin" after using it overnight.
You might not be able to recreate all of her beauty routine, but there are few of Aniston's staples you can try (unless you're, like, rich and we didn't know that).