The Truth About Martin Scorsese And Isabella Rossellini's Marriage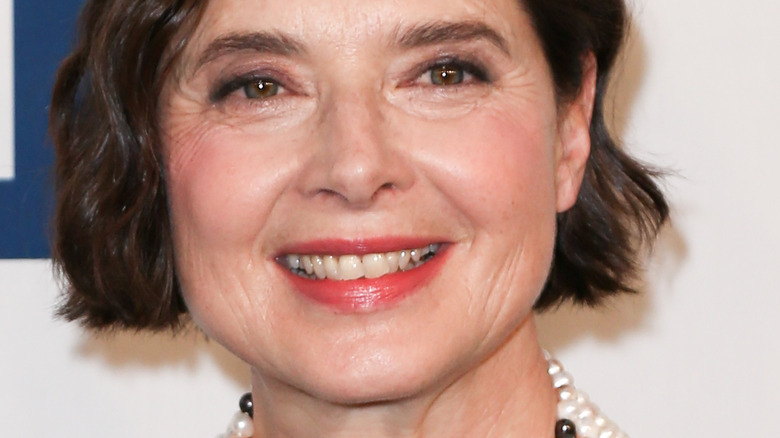 Shutterstock
Acclaimed director Martin Scorsese has been married to his wife, Helen Morris, for over 20 years now and the two share a daughter, Francesca (via Women Working). Because of the longevity of their relationship, it's easy to forget that prior to Morris, Scorsese was married four other times, including for three years (1979 to 1982) to a celebrity in her own right, Isabella Rossellini (via Empire).
Rossellini, who is the daughter of legendary actor Ingrid Bergman and film director Roberto Rossellini, first met Scorsese in 1979, when he appeared on the Italian television show Rossellini was working on (via Vulture). Rossellini was set to interview the director about his new musical drama "New York, New York" (starring Robert De Niro and Liza Minnelli) but hadn't yet seen it.
"'There was a mess-up and I'm gonna see the film tomorrow, but I have the interview today,'" Rossellini admitted to Scorsese. And he said, "Oh, you want to see it tonight?" So we did the interview and then went to a screening, and he's a big film buff, so he would be saying, 'I did the tracking of the camera like that because of John Ford.' Then he would see my eyes glaze over and he'd say, 'You didn't see that film of John Ford? You have to see that film of John Ford. I'll do a screening for you. Come see it.' That's how we started. I think he liked me," Rossellini recalled to Vulture.
From there, Rossellini and Scorsese began dating and eventually wed. It was Rossellini's first marriage and Scorsese's third.
Rossellini: Sometimes sorrow brings people together and sometimes it doesn't
Donaldson Collection/Getty Images
Being married to Martin Scorsese proved to be a career boon for the then-25-year-old Isabella Rossellini, who began to book higher profile modeling gigs, including one as a Vogue cover girl — something Rossellini has said Scorsese took umbrage with (via The Guardian).
Sadly, in 1982 when Rossellini's mother's health was failing, it drove a wedge between the couple. "Mother was dying of cancer in London..." Rossellini told the Sun Sentinel. "It's strange that sometimes sorrow brings people together and sometimes it doesn't. You become closer if you're solid, strong and capable. But if you're not — and I was not — it can separate you. I panicked and decided it would be better not to be married."
At the time, Rossellini didn't carry any resentments toward Scorsese, saying, "Marty and I had a wonderful marriage ... If I had been older, wiser and calmer, we might still be together." However, there is one comment following their divorce that Scorsese probably shouldn't have made. "Some time ago I saw Martin and he told me that, when we met, it was very important for him to think that he was in a relationship with Roberto Rossellini's daughter," Rossellini once recalled (via Vanity Fair).
Rossellini later went on to date director David Lynch, and yes, the actor is aware she has a type. "Martin and David are alike ... The men in my life are visionaries, a bit like my father," she said. "I feel extremely inspired by them, over-awed by their presence."