How Nail Stickers Are Replacing Painted Nail Art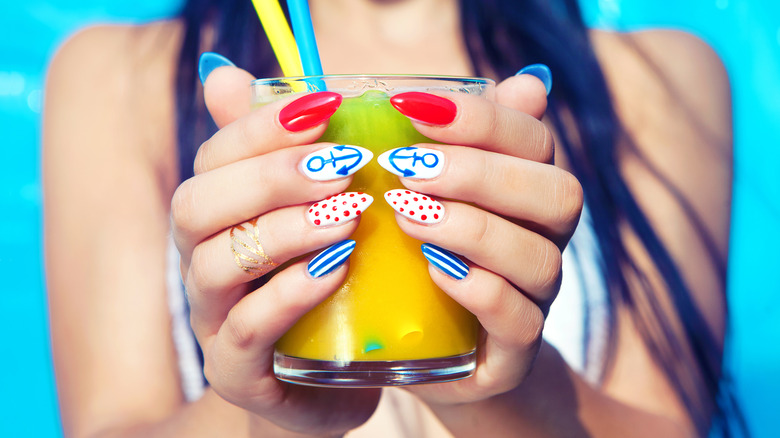 Shutterstock
We may receive a commission on purchases made from links.
There are very few things in life that makes us feel like a band new person. Sometimes, it's a haircut, other times it's a brand new outfit, but plenty of times we feel brand new when we have our nails freshly done. Getting our nails done and having a perfect manicure can totally uplift our moods every single time we use our hands to pick anything up or even text on our phones. 
While getting a fresh manicure at the salon is all too relaxing and great, many times we have such busy schedules or tight budgets that we totally can't afford to go as often as we'd want to. That's why so many people are opting for DIY nails in the comfort of their own home (via Glamour). But, it's definitely hard to get those intricate designs and styles without having a trained, professional nail tech do them for you. 
Fortunately, the latest trend in beauty makes it that much easier for everyone to have the most gorgeous designs on their nails in less than five minutes.
Why nail stickers are sweeping the market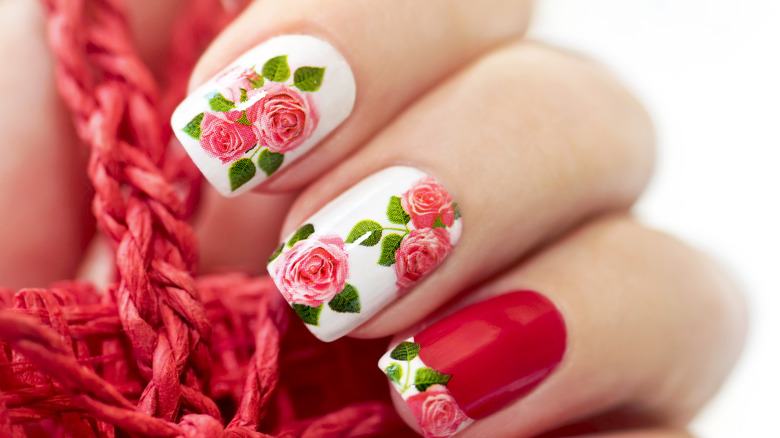 Shutterstock
Whether you're a Pinterest junky or an Instagram user, you've seen all of those beautiful nail designs all over social media. All of us want to replicate them so badly, but we're not always able to sit in a salon for hours, waiting to get them done. Recently, however, beauty brands have been branding and selling nail art stickers that are easy to apply from the comfort of your own home — no skills required. 
There are several different types of nail stickers you can use. There are the traditional nail-art stickers, where you apply polish to your nails and use adhesive stickers or even french tip adhesives as designs. Some companies even have 3D stickers, to take your nails to the next level (via Stylecraze). These are more geared toward people who want to DIY their design, too. But, to make it even better, there are companies that make full press-on nail wraps, so your entire manicure is done for you. All you have to do is just stick your "manicure" onto your nail and size it. As these have become more popular on the market, there are nail wraps in every color with every kind of design (via Amazon). They're easy to apply because many of the wraps are just adhesive-based, and press right on. 
We're always looking for ways to make our lives easier, and with these nail art stickers, it totally saves the day (and time)!