BTS Reveals The Name They Almost Went By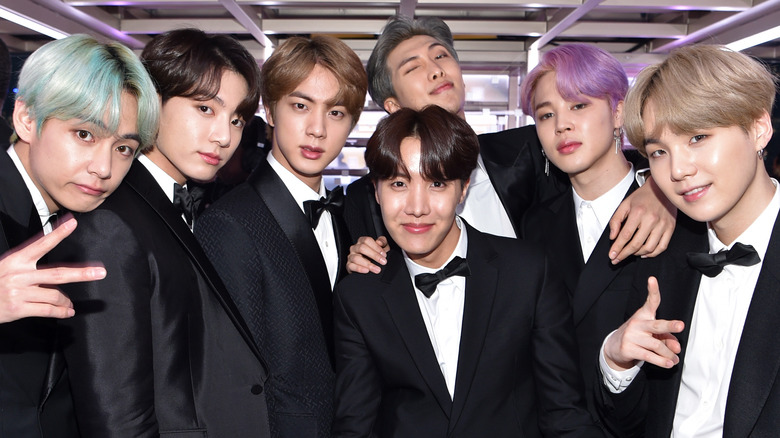 John Shearer/Getty Images
As K-pop crossover bands go, BTS are it. Even those who don't know anything else about K-pop definitely know these lads and their inescapably catchy pop hooks including "Dynamite," "Butter," and "Permission to Dance," which, as Forbes notes, they replaced themselves with at the top of the charts upon the song's release. Suffice to say, BTS aren't just hometown heroes — they're global superstars. It helps, naturally, that the Seoul natives picked a name that translates perfectly into every language. 
The beloved boyband opened up during an appearance on "The Tonight Show" about the meaning behind their name, with leader RM explaining, "When you say BTS, it stands for 'bangtan' in Korean, not 'behind-the scenes,'" (via People). Their fans are notably, and proudly, known as the BTS Army, but RM revealed there was talk early on of calling them the Bells, since the Korean word for "bell" sounds like "bang wool." Thankfully, they opted for ARMY. As it turns out, BTS wasn't their first choice either. 
Clearly, BTS was the best choice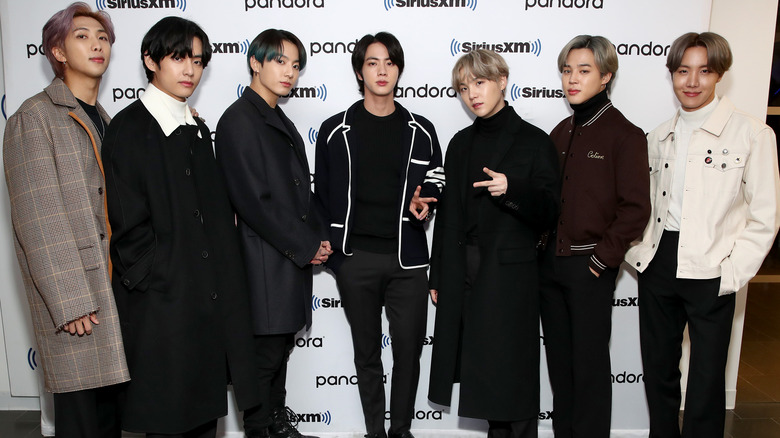 Cindy Ord/Getty Images
According to Cosmopolitan, prior to becoming the icons known simply as BTS, the South Korean boyband toyed with going by the name, er, Big Kidz. They also considered Young Nation as a possible moniker. Thankfully, much like ARMY, the guys realized it had to be BTS. As K-pop super-fans will already be aware, the band was put together by legendary producer "Hitman" Bang, whom RM met first. He told Elle that, after auditioning, Bang informed RM that "he felt his destiny was to create a 'hip-hop idol band.'" Suga joined next, followed by J-Hope, who had a good reputation as a dancer in his hometown, and the final four members gradually filled out the group. BTS officially formed in 2013.
Although the boyband is, obviously, a global sensation, success didn't come as easily to BTS as you might imagine. RM confessed to Rolling Stone that, in the beginning, "we didn't see positive results. We didn't have a lot of fans. We didn't have great results. There were some times when we were mocked." He elaborated, "it took some time for that identity to develop and settle itself." Thankfully, after deciding to be more emotionally honest both in their music and their outlook, BTS crossed over in a major way, becoming one of the most talked about bands at home in South Korea as well as worldwide. Would that have happened if they were called Big Kidz or Young Nation? Sadly, we'll never know.