What Does BTS' 'Permission To Dance' Mean?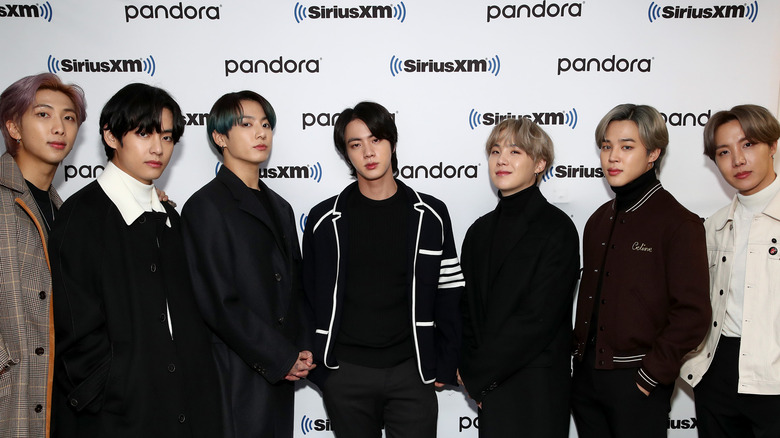 Cindy Ord/Getty Images
On July 9, BTS released a new single and sent their fandom into a frenzy. You'd be forgiven for thinking that everything that the group of seven touches turns to gold, including their new song "Permission To Dance" mean." NME details that the group worked with Ed Sheeran, Steve Mac, Johnny McDaid, and Jenna Andrews to create the track that embodies all things joyful about summer.
Fans have been spoiled by the release of "Permission To Dance" as BTS are still riding the wave of their super popular track "Butter." The Billboard 100 Chart outlines that it's currently sat at No. 1 for the sixth week in a row. Pitchfork writes that BTS's most recent success comes off the back of releasing two albums in 2020, "Map of the Soul: 7" and "Be." They're seriously adding to their reputation as hit music-making machines.
The hype for new BTS tracks is still growing since its release. Speaking as part of an Amazon Music live event RM revealed that BTS doesn't plan on stopping anytime soon. "This is us talking because we want to do this for a long time and to do this long run. We passed the so-called seven-year limits, we just had our eighth anniversary," he explained. "We envision ourselves that we can be, actually, the BTS stands for Bangtan Boys and we have plans that we can be Bangtan Papas or Bangtan Grandpas or something. Maybe 20-30 years later. That's what we want. BTP let's go."
The lyrics have one request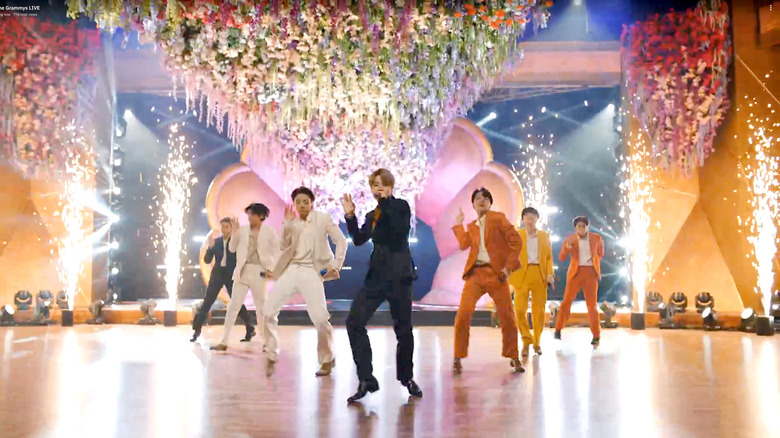 Theo Wargo/Getty Images
The meaning behind "Permission To Dance" seems pretty straightforward. With lyrics like, "I wanna dance / The music's got me going / Ain't nothing that can stop how we move" and "Don't need to talk the talk / just walk the walk tonight / 'Cause, we don't need permission to dance" it's pretty clear the BTS guys are ready to party and they want you to join in with them.
Many of the group's songs are feel-good tunes, but this one is a call for people to put on great music – they suggest Elton John in the song – and dance to your heart's content. However, the Times of India has written that their video also passes on another meaning to ARMY. In the backdrop to their video, there are messages in graffiti about ending hate crimes towards the Asian communities. Similarly, a purple balloon is let go of and drifts to the sky. The publication writes that this may represent letting go of the pandemic.
If you simply can't wait to see BTS perform "Permission To Dance" live then you're in luck. "The Tonight Show" revealed on Twitter that the boys would be taking part in a two-day takeover on July 13 and 14. They'll be performing their new track alongside "Butter."