The Truth About Married At First Sight's Bao & Johnny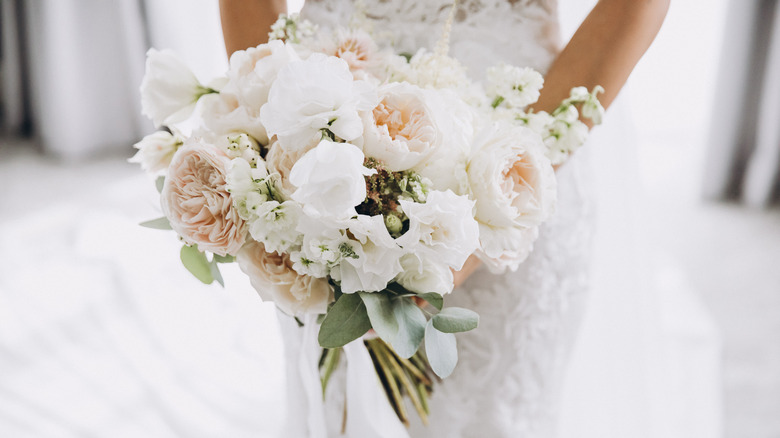 Shutterstock
In the realm of reality television, there are many different series that tackles the topic of love. From "The Bachelor" to "Love is Blind" to "90 Day Fiancé" there is a wide variety of dating series to check out.
However, for every ounce of drama these popular shows provide, no single show compares to the entertainment value of Lifetime's "Married at First Sight." To land a spot on the show, singles agree to marry a complete stranger and document their relationship for six weeks before deciding to continue the union or divorce. "MAFS" premiered in 2014 and has since matched 25 couples (via In Touch Weekly).
Though many of the couples ultimately decided to part ways, a few lucky contestants met their soulmates through this unconventional process. Season 1's Jamie Otis, who stayed with her partner Doug Hehner, told Upfront NY that she's grateful she participated in the experiment. She said, "Boy, was I pleasantly surprised by this process. I'm so happy that I was able to be open-minded, and I'm so thankful that the experts gave me my husband." Now a whole new set of hopefuls will have an opportunity to test their luck on the upcoming thirteenth season of "MAFS" (via Us Weekly). While each of the five couples looks promising, Johnny and Bao certainly stand out from the crowd.
Will Johnny meet Bao's expectations?
According to his Us Weekly biography, Johnny is a 35-year-old man who was raised by a single mother in Houston. He's spent many years looking for "The One" but has yet to find her, while Bao is someone who never really wanted to settle down. She grew up with Vietnamese refugee parents and often had other priorities. However, when Bao turned 30 she realized that she did want a husband and has decided to let the experts at "Married at First Sight" help her find one.
In a preview for Season 13, viewers learned a bit more about Bao and how she became part of this process (via Distractify). In a conversation with matchmaker Dr. Viviana Coles, Bao explained what she's looking for in a husband. She expressed that she's looking for a nerd, as she identifies as one herself. She also explained that she's looking for someone who shares her values. Bao said, "If they don't themselves demonstrate that they have strong family values, it will be very hard." While we've yet to see if Johnny meets Bao's criteria, the upcoming Season 13 premiere should be very informative.