For Eyeshadow, One Product Stands Above The Rest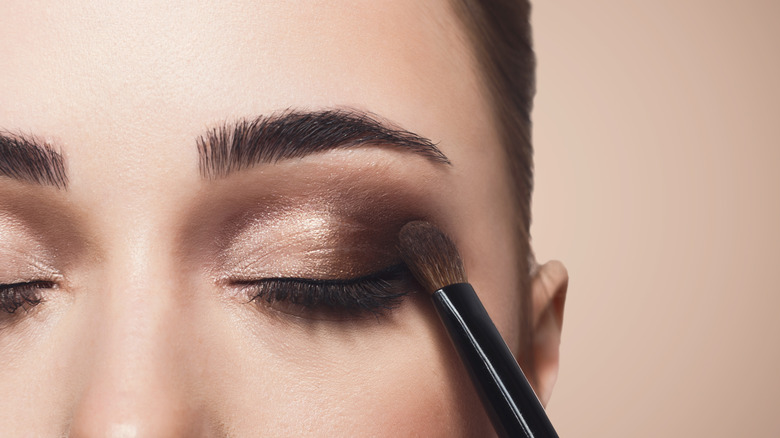 Shutterstock
We may receive a commission on purchases made from links.
It goes without saying that eyeshadow is a staple makeup product. You can beat the rest of your face, but if you don't use any eyeshadow, what's the point? Even a nude eyeshadow color will make your eyes pop. Finding the right eyeshadow can be confusing, though, with so many brands and palettes to choose from. Finding the right palette is crucial because you can use it for everyday applications and even to copy trends, such as the halo eyeshadow trend or the glossy eyeshadow trend.
The best part of eyeshadow — and makeup generally — is that it's a tool of self-expression. You get to make whatever shapes and colors you want using eyeshadow, and you get to be as colorful, glossy, nude, or matte as you want depending on your mood. However, some palettes only offer a few colors, or maybe they only offer variations of the same hues, meaning you don't get the chance to fully express yourself — or you have to grab a second palette just to pull off one look. That ends today because the ultimate palette has arrived.
This palette is perfect for every occasion
The ultimate palette is here, and, yes, we mean ultimate — the NYX Professional Makeup's Ultimate Shadow Palette, and it's named rather accurately. Boasting 16 shades that range from matte to shimmery, this palette gives you everything you need to create a simple look, a smokey eye, and everything in between. These shades build incredibly well on primer, which makes their full depth of color pop like no other. You can also practice with an eased mind knowing that NYX is a cruelty-free brand, meaning they don't test on animals. They're even certified by PETA. 
The brilliant aspect about this palette is that it's actually more than one. Each Ultimate Shadow Palette uses the same formulas to give you long-lasting wear and vibrant colors, but each has different shades so you can make any look you want. The #1 Warm Neutrals palette, for example, should be a staple in your makeup kit for smokey eyes, while the Brights palette is perfect for a party or a night out on the town.
"This palette actually has about the right and perfect combination of [smokey] and highlight shades that you can use not only for a makeup look but also to highlight your cheeks," explained Chic Profile in their review of the Ultimate palette. Chic Profile warned of fallout, but for only $14.99, a little fallout is easy to cope with.
"It doesn't swatch too pretty, but it's SO gorgeously pigmented and buildable when applied with a brush," one Amazon reviewer explained. Because it goes on to the eye so well — and is perfect for any occasion — why not give it a chance if you haven't already?
Purchase NYX's Ultimate Shadow Palette on Amazon for $14.99.