Dolly Parton's Risqué Gift For Her Husband Is Turning Heads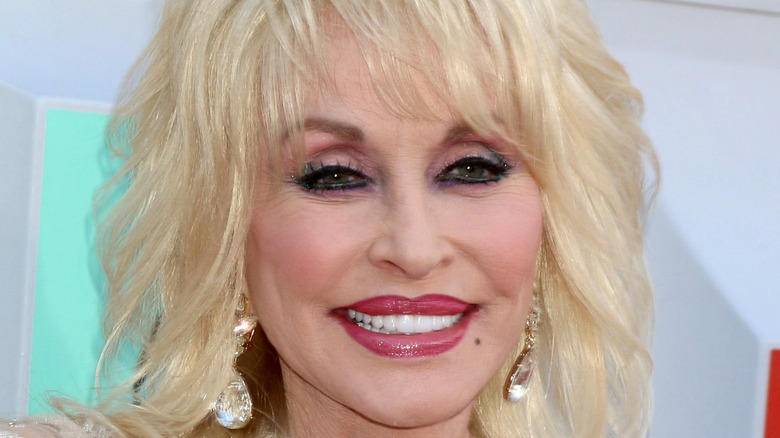 Shutterstock
Whatever it was we might have had on our 2021 bingo card — we wouldn't have predicted how music legend Dolly Parton would set Twitter on fire with a steamy birthday greeting for her husband, Carl. 
"It's always #HotGirlSummer for my husband, Carl. Happy Birthday, my love!" Parton wrote in a tweet – along with a video of herself in a Playboy bunny suit. "Today is July 20. It's my husband Carl's birthday, and you're probably wondering why I'm dressed like this," she said in the video. "Well, it's for my husband's birthday." 
She goes on to explain that she had promised that she would pose for Playboy magazine when she had turned 75 years old ... and while that time might have (finally) arrived, the magazine has ceased publication. But since her husband loved her original Playboy cover, Parton said she had decided to organize a photo shoot of her own. "He still thinks I'm a hot chick after 57 years, and I'm not going to try and talk him out of that," she confessed on camera. 
She then showed off her present — a copy of her old Playboy cover, alongside a new photo she referred to as "the old new Dolly." She said, "I was kind of a little butterball in that one. Well, I'm string cheese now. But he'll probably think I'm cream cheese, I hope." 
Dolly Parton's birthday greeting for her husband, Carl, set Twitter ablaze
Dolly Parton's video had the Twittersphere buzzing, as social media users showered the country music icon with love. "LEGEND! The world owes you a debt of gratitude for your selfless charitable donations! Billionaires flying themselves to 'space' so they can look down on the world and yet the irreplaceable Dolly enables us to stay alive and look equally at each other, healthy and happy!" raved one social media user. 
"YASSSS Queen! Keep showing us that attractive has no age limit. We only age when we stop trying. Fifty-seven years are the marriage goals to strive for. My hubby's B-Day is coming up later this year. Might have to steal this idea," another Twitter user wrote.
A few even remembered to send some love Carl's way. "Happy Birthday, Carl, you lucky, lucky son of a gun" one Twitter user wrote, along with a thumbs-up and a grinning emoji.
We think this Twitter user speaks for all of us when she posted: "I hope I have this much sparkle in me at 75. This is awesome, Dolly! Happy Birthday to your husband, Carl; I'm sure he will be overjoyed. And you have a beautiful soul as well as a beautiful appearance ... whether you're a cute butterball, string cheese, or cream cheese."