This Hilarious Exchange Between Joe Biden And Tom Brady Has Twitter Rolling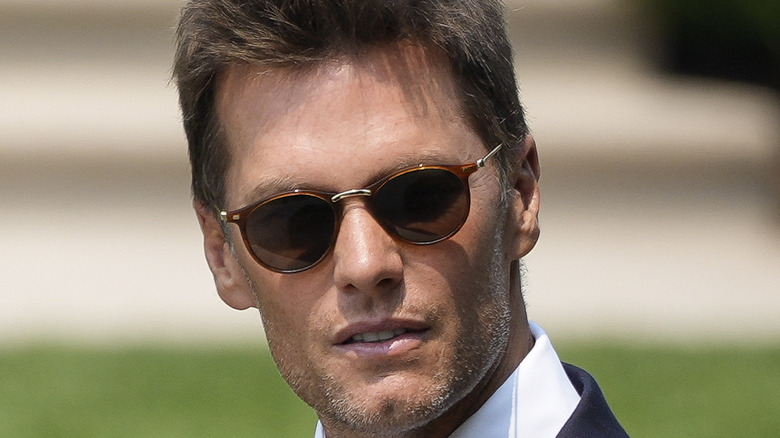 Drew Angerer/Getty Images
The Super Bowl-winning Tampa Bay Buccaneers visited the White House on Tuesday to celebrate their victory (via ESPN). We weren't sure what to expect when the oldest quarterback in NFL history to win a Super Bowl met the oldest president in U.S. history, particularly when the former was believed to be a supporter of Donald Trump (via Sporting News).
We know what we didn't expect was a comedic exchange between Tom Brady and President Joe Biden, which quickly went viral on Twitter. "Not a lot of people said we could have won. In fact, they think about 40% of the people still don't think we won," Brady said. "You understand that, Mr. President?"
"I understand that," a laughing Biden said off camera.
"Personally, it's nice for me to be back here," Brady continued. "We had a game in Chicago where I forgot what down it was. I lost track of one down in 21 years of playing, and they started calling me 'Sleepy Tom'. Why would they do that to me?" 
"I dunno!" the president responded with his hands in the air. 
Twitter was delighted by the exchange between the president and the quarterback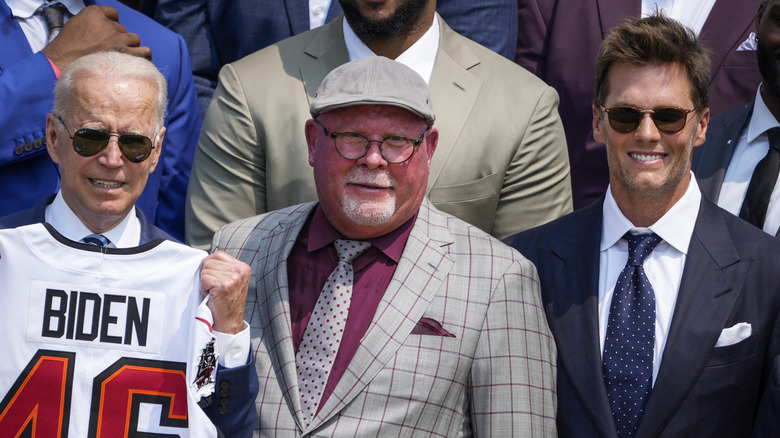 Drew Angerer/Getty Images
Social media warmed to the comedic exchange between the two men. "Joe Biden and Tom Brady, the unexpected comedy duo we never could have predicted," wrote one social media user. 
Another said, "I can hate Tom Brady, and still enjoy the hell out of not being embarrassed by the President of the United States when a championship team comes to the White House." 
A third commented, "Biden played right along. TFG would have stood there with his lip poked out. This was cute. It's nice to see some joviality."
There were also those who sought to remind the Twitterverse that Brady never made it to the White House while Trump was president. "Brady shows up for Biden but not Trump" one user pointed out, with a wide-eyed emoji.
Then there were those with a different take, with one writing, "Tom Brady refused to go to the White House when Barack Obama was President. The only reason he is ditching Trump now is because Brady doesn't want to be on the losing team."