Is Meghan Markle's Father Hoping To Reconcile With His Daughter?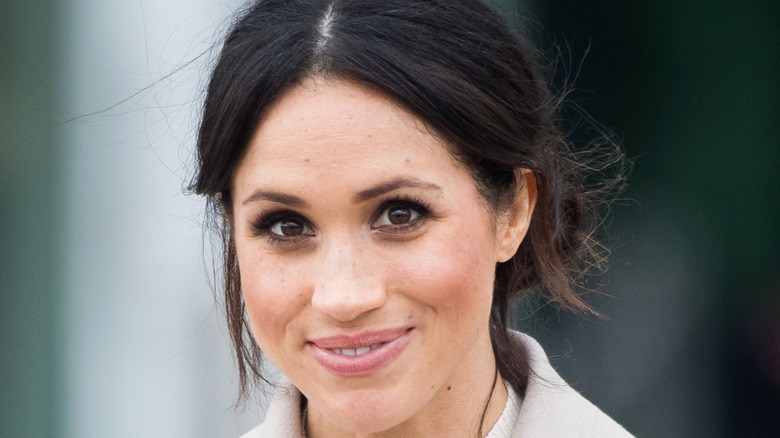 Shutterstock
Since it was first announced that Prince Harry and Meghan Markle would be getting married, much of the media attention turned to Meghan's family in the United States. iNews explained that ahead of the royal wedding in May 2018, Meghan's relationship with Thomas Markle, her father, deteriorated. But is Meghan's father hoping to reconcile with his daughter? A source has told Fox News that in his old age, he may be thinking of building bridges.
Throughout the summer of 2018, Harry and Meghan dominated headlines. Fans rejoiced as they tied the knot. However, The Guardian reported that Thomas didn't attend the ceremony. Doria Ragland, Meghan's mom, supported her daughter and Town & Country explained that Prince Charles walked her down the aisle. Meghan released a statement two days before the ceremony noting that her father would not be in attendance.
Later in 2018, Thomas told the Daily Mail, "What riles me is Meghan's sense of superiority. She'd be nothing without me. I made her the duchess she is today. Everything that Meghan is, I made her."
In February 2021, The Guardian outlined that Meghan won the lawsuit against the Mail on Sunday after they published part of a letter that she'd sent to her father — Thomas had shared it with the publication. It'd seem that the pair have had a difficult relationship ever since. But does Thomas want to reconcile his relationship with Meghan?
It's reported that Thomas Markle 'is frustrated' over his relationship with Meghan Markle
On July 21, 2021, a source told Fox News that Thomas Markle may want to reconcile his relationship with his daughter if possible. The source said that as Thomas is getting older in age, he may want to rebuild bridges.
"He's frustrated. He's lived his life raising his kids. He moved to Mexico to live his life in peace and not to be completely blackballed and outcast. It doesn't feel good [for him]," the source shared." He was an awesome dad to Meghan. For him to get heat and be portrayed as this money-grabbing bum is not fair. He's not even like that." 
This isn't the first time that it's been insinuated that Thomas may want a relationship with Meghan Markle. In March 2021, he told ITV's "Good Morning Britain" that he hadn't spoken to his daughter in years and he regrets the estrangement. He said, "When they talk to me, I'll stop talking to the press." He added, "I wish I hadn't done the whole thing but here's the other side ... It's like no one took any time to protect any member of our family."