This Couch Went Viral On TikTok, Here's Why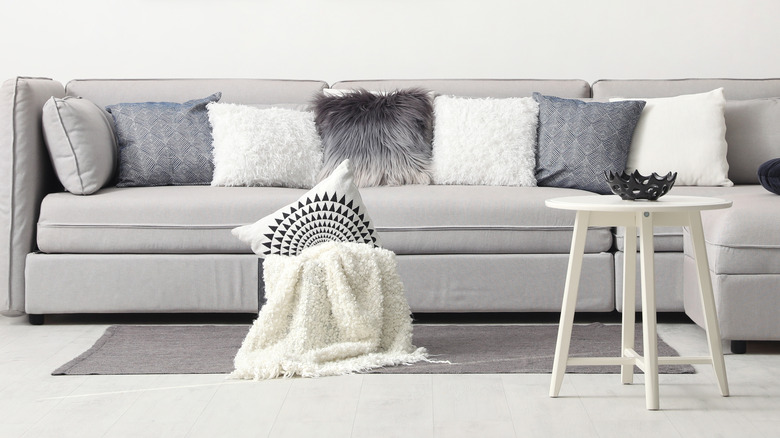 Shutterstock
TikTok is the capitalist crystal ball that seems to predict many people's upcoming purchases. The video app coerces gently, like a never-ending shop display of everything you never knew you needed. Before long, you might be one of the 4 billion viewers of a product uploading to #TikTokMadeMeBuyIt — whether it's a viral Zara dress or the leggings that Lizzo launched into internet fame.
Recently, TikTok's one-stop-shop brought the Caruso Fabric Sleeper couch to everyone's FYP, aka the For You Page. The sectional couch is huge and comfy, perfect for couch potatoes or big families to veg out in. The only color it comes in is a pinkish beige, making it an easy fit for most living rooms. However, the couch doesn't owe its fame to its aesthetic; Its many features and hidden storage options make it a useful piece for people with limited space in their homes. And let's face it, that's most of us. Keep scrolling to learn why this viral couch is so ideal for so many.
The viral TikTok couch flew off shelves
TikTok users first spotted the Caruso Fabric Sleeper in user Rachel Tiffanyy's viral video, which she captioned, "Things tiktok made my fiancée buy for me." Garnering more than 430,000 likes, the original video brought interested patrons of TikTok to the video's comment section wondering what the couch is really like. "How comfy is it? It looks pretty firm," one user questioned. "Was it easy to put together or does it not come apart," another commented. Rachel's subsequent reply video detailed that the couch was $1,800 when she bought it and that it is super comfy indeed.
Furniture Row, where the couch is sold, learned about the couch's viral success and consequently increased its price to $2,199 — and it still sold out in most places, per PopSugar. Knowing that it used to be cheaper can make it hard for many to open their wallets, so we've curated a few alternates. TikTok user Paolo found an option in Costco for $1,000, and this sleek sectional at WayFair will only set you back about $769. The only downside to buying these couches, however, is that they're not TikTok famous. 
From leggings to couches, it's clear that anything can go viral on TikTok. Now, it's just a waiting game to see what takes off next.