Everything You Need To Know About The Korean Half-And-Half Manicure Trend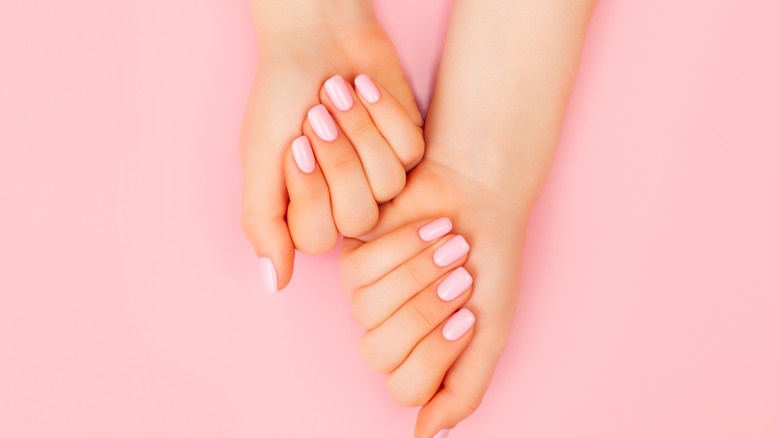 Shutterstock
The Korean beauty world has officially taken over our Instagram feeds, just as K-pop has taken over our Spotify accounts. What started with a simple sheet mask has now overhauled our entire skincare routines. But South Korea has another beauty secret they're ready to share with us: nail art. 
Seoul based nail artist Sunny Sunkuku stated, "Nail trends in Korea tend to be simpler and cuter in style rather than flashy and spectacular," (via Allure). That means shorter nails as opposed to talons, glitter instead of gems, and more understated colors and patterns. But while these looks may be considered easier to maintain, they're anything but boring.
Some common Korean nail art ideas du jour include watercolors, shattered glass, color-shifting polish (thanks to magnetic particles), smiley faces, chunky glitter, and many, many more fun designs (via Byrdie). But Korean manicurists don't stop with innovative polishes. They're also filing new shapes like lipstick and ballet nails. South Korea's premier nail artist and owner of Seoul's Unistella Salon, Eunkyung Park, thinks that nail shapes could be the new eyebrows. "With a little change in the shape of your nails, you can easily achieve a change in your entire look," Park told Allure. "It can make your hands look longer or create your own signature look."
But the Korean trend that has us going absolutely gaga, thanks to its bold colors and use of negative space, is the half-and-half manicure.
You can wear up to 20 different polish colors with the half-and-half manicure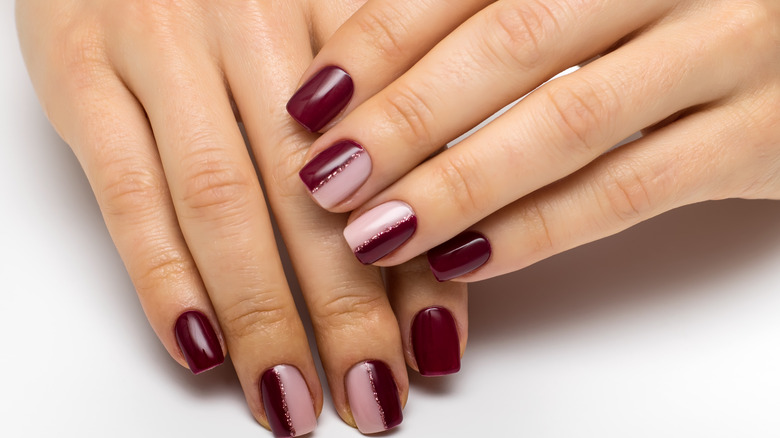 Shutterstock
So how did the half-and-half manicure become the new it-girl staple? Peach and Lily's Alicia Yoon explained that, "There are a few super-renowned nail artists in Korea who set some of the trends. However, ultimately, customers end up picking the trends that they like," (via Byrdie). 
Yoon noted that she's been seeing an uptick with the half-and-half manicure style, as it provides ample opportunities to be creative. "The fun part of these color-block nails is that each nail might have a different color block, so on all 10 fingers, there could be 20 different colors, with each nail being different." Beauty is all about experimenting, and the half-and-half trend allows consumers to try out a new color they've never dared to wear.
This manicure style also lends itself to the negative space trend, which consists of leaving sections of the nail blank to create geometric designs and graphics. Go beyond the norm and opt for a half-and-half with bold colors to really make the most of your nails' juxtaposition. We guarantee the risk will pay off!