Abner And Amanda On What It's Like Working With Chip And Joanna Gaines - Exclusive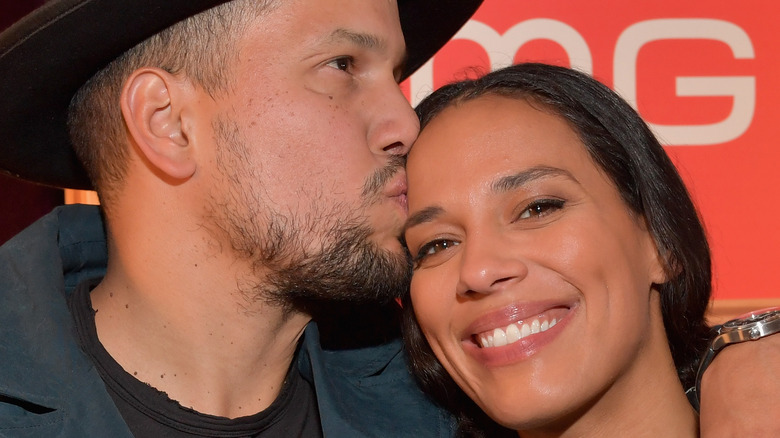 Lester Cohen/Getty Images
For those of us who happily settled in for a marathon of "Fixer Upper," the show holds a great deal of significance. The renovation series that followed the work of Chip and Joanna Gaines in Waco, Texas, struck the hearts of many, so much so that the couple were able to launch several brands and business ventures following their heightened success. Of course, so many of us were beyond devastated when the couple announced that they'd be pulling the plug on their popular television show, as it seemed that they were leaving the screen at the height of their success. If only we had known what was to come.
After a hiatus from the world of television, Chip and Jo are back in a big way. Not only did they launch "Fixer Upper: Welcome Home," but the new show just so happens to be airing on the Magnolia Network, which is now home to a variety of touching, thoughtful, and entertaining shows. If you can think back to the theme song of "Fixer Upper" from all those years ago, you might be familiar with Abner Ramirez and Amanda Sudano, whose band Johnnyswim was behind the toe-tapping hit. With the support of Chip and Jo and the power of the Magnolia Network behind them, Abner and Amanda are now the subjects of not one, but two shows that document their lives on the road as musicians, and at home as working parents and partners. So what was it like for the musical pair, who have a storied history with the stars behind "Fixer Upper," to get involved with Chip and Jo for the Magnolia Network? The List sat down with the couple for an exclusive interview to get all the details.
The two working couples have a number of shared values and goals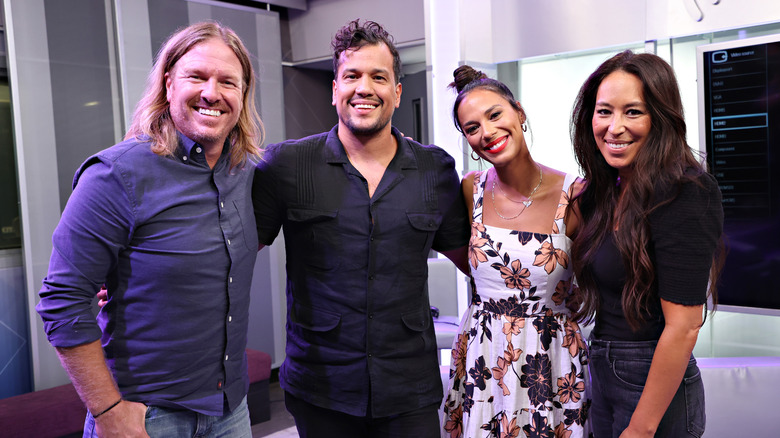 Cindy Ord/Getty Images
When you get into business with anyone, a shared goal and set of values is always a plus. For Abner Ramirez and Amanda Sudano, it was very easy to work with Chip and Joanna Gaines, in part because they have so much in common. Abner told The List that it's been extremely important to him for his kids to see him pursuing goals and ambitions, but what made things that much easier was the fact that the couple had another working family in the mix — the Gaineses. Chip and Jo are parents to five kids and have built an empire from their brands and shows, so not only did Abner and Amanda share similar passions, but they had mentors to look up to in the process. 
"Getting into the television world ... any questions that we had, any concerns that we had, we had pros that we could talk to and who could kind of mentor us in this space that was new to us and make it make sense and make it not scary, make it fun," Amanda shared. 
Abner echoed her sentiment, saying that while he and Amanda have always had dreams of starring in a television show, no one on the production side of things ever gave them an opportunity to share their stories and "unique perspective." Of course, that was before Chip and Jo were Chip and Jo, and things are far different now.
This was the moment that changed Abner and Amanda's lives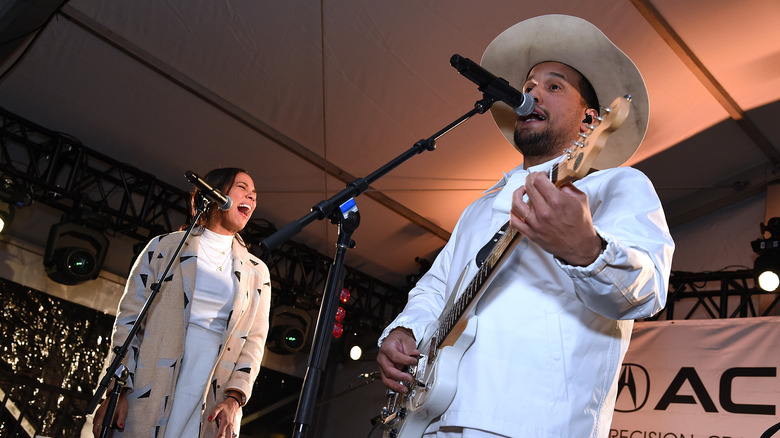 Michael Kovac/Getty Images
In pursuit of starring in their own television show one day, Abner Ramirez and Amanda Sudano made a sizzle reel, and like many trying to make it in the industry, put it in front of as many eyes as they could — but there were no bites. That's where Chip Gaines stepped in. "[Chip] says, 'Listen, I saw your sizzle reel. I heard nobody's picking it up. And I just want to tell you, I think all those people are stupid,'" Abner said. He went on to say that Chip called him and his bandmate (and wife) "fantastic" and "entertaining," and that their energy would be fantastic on camera. And what do you know? Abner and Amanda are now the stars of two shows on the Magnolia Network: "Home on the Road" and "The Johnnyswim Show." 
But it was a couple of years between the time of that initial conversation and their dream coming to fruition. Chip and Jo, as we all now know, eventually left the HGTV network, taking a lot of star power with them. It was "literal years" later, as Abner put it, that he was in a Whole Foods parking lot when he got a call from Chip about a possible new network. "We want to launch you guys," Chip told the couple on the call, and that was it. 
"They were true to their word," Abner said of the powerhouse couple. "We were the first show in production. They've done an amazing job always championing us." 
Magnolia Network's slate of original programming launched July 15 on discovery+ and inside the Magnolia app.