Why You Should Think Twice Before Getting A Shellac Manicure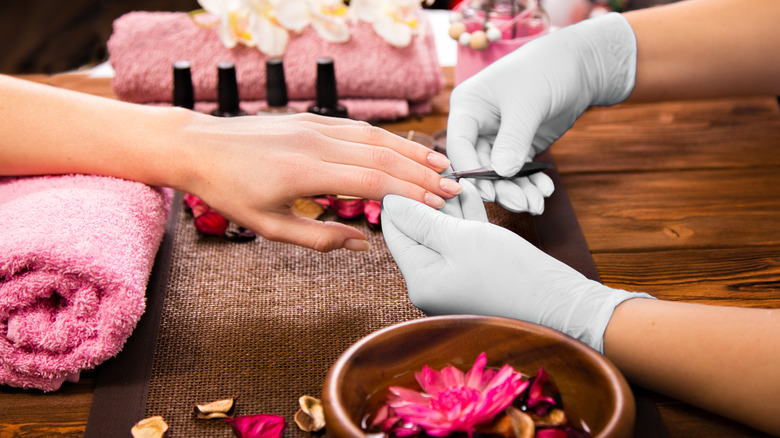 Shutterstock
Having perfectly manicured nails for days on end feels — and looks — amazing. Since the shellac manicure trend took off years ago, many people have made the switch from traditional polish to gel. But, if you've ever manually taken your polish off early or if the edges started to get caught on your clothes and hair, you'll likely recognize the brittle nails that greet you underneath.
While the benefits of shellac may be plenty, the downfalls of its removal process are as well. "Any product that is cured onto your nail has the potential of nail damage in the removal process," Deborah Lippmann, a celebrity manicurist, tells Byrdie. "You must commit to the time that is required to soak off the product correctly. No scraping, No filing on top of the nail — no removing with your teeth."
Since the shellac can start to chip after a little over a week, waiting for your next appointment may seem like too long. This is prime time for breakage; so, if you don't have the time to head to a professional or remove the shellac properly with an acetone soak, it may leave you with damaged nails. Especially when built up over time, tearing the top layer off of your nailbeds can be disastrous to their health.
Shellac application may include UV damage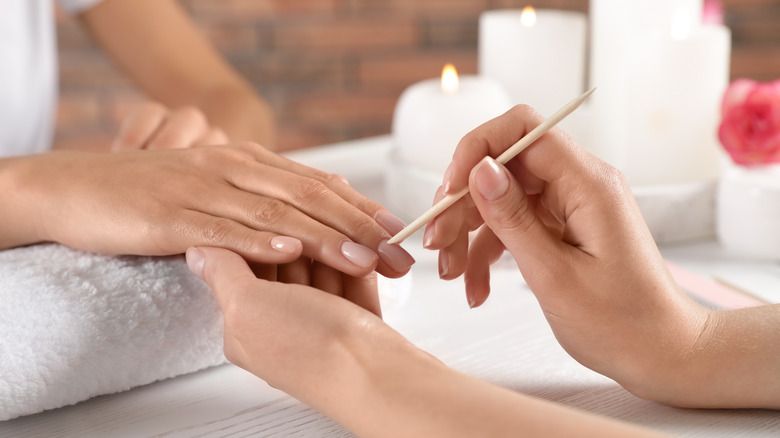 Shutterstock
If you're choosing between shellac and gel for your latest manicure, there may be an important factor many don't know. Byrdie reports that shellac polish — the original in the long-wearing nail polish game — has specially formulated tubes underneath the top layer that help protect the nailbed during removal. While your nails soak in acetone, the chemical binds to these tubes to peel them off damage-free. Other brands may not have this formula and have other harmful additives.
"We highly recommend using Shellac polish versus your typical gel polish because they soak off easier and are less damaging to the nails during the soak off process. We also love Shellac because it is formulated without the major harmful chemicals that used to be in nail polish (think: Formaldehyde, toluene, camphor, etc.)," Varnish Lane co-founder Lauren Dunne told the outlet.
In addition to being potentially damaging to your nails, the UV light application process may be cause for alarm as well. Women's Health reports that the lamps used to solidify the polish emit UV radiation. When you're going to the salon twice a month and putting your hands beneath the bulbs, it does pose a moderate risk. Dermatologists recommend putting sunscreen on your hands before you hit the salon; make sure it's at least 30 SPF! You can also purchase gloves that cover your entire hands except for your nails if that's up your alley as well.
While the jury is out on whether or not shellac manicures are worth it, it's wise to prepare properly and always remove your polish the right way.