The Internet Is Buzzing Over Simone Biles' Twitter Emoji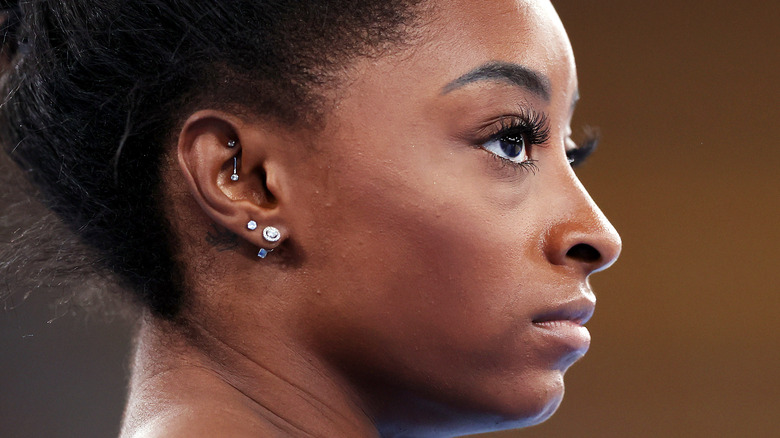 Jamie Squire/Getty Images
Olympian Simone Biles is used to making history considering, as Marie Claire noted, she's a 19-time World Champion and four-time Olympic gold medalist, making her a complete outlier in her sport. If Biles wins again at the Tokyo Olympics, as she's pretty much guaranteed to do, the record-breaking Ohio native will become the first woman in over 50 years to nab back-to-back all-around gold medals. Known for nailing difficult routines that other gymnasts typically don't even attempt, to the extent judges are unsure how to even score her routines anymore, Biles is fast proving herself to be the GOAT (i.e. greatest of all time) in her chosen sport. To that end, Biles has showcased several stylish leotards, cleverly bedazzled with a goat, in a nod to her undisputed status, explaining, "The idea was to hit back at the haters." 
As the celebrated athlete explained, she knew haters and fans alike would have a huge response to the attention-grabbing decorative touch, and indeed they did. Moreover, Biles hoped to make it clear to younger up-and-comers that they shouldn't be "ashamed of being good at whatever they do." The Olympian understandably takes issue with anybody criticizing her for being proud of her massive achievements, particularly considering she really is that good. However, with Biles's new dedicated Twitter emoji, it's unlikely anybody will be arguing she isn't the GOAT.
Twitter officially proclaimed Simone Biles the GOAT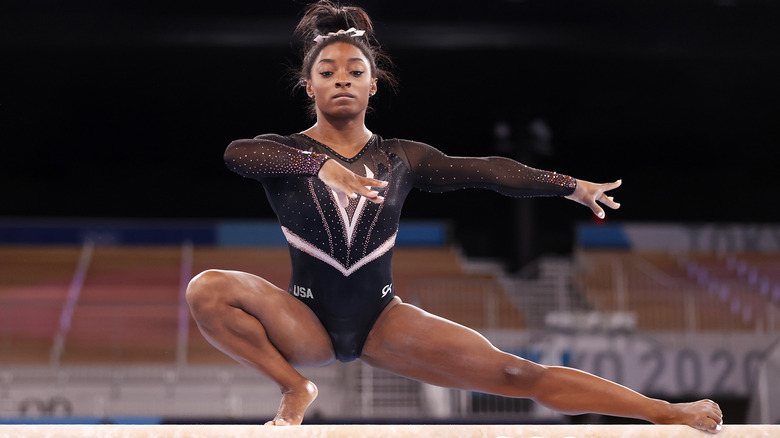 Jamie Squire/Getty Images
Simone Biles is on the cusp of setting even more records in Tokyo but, ahead of the upcoming competition, Twitter has honored the celebrated gymnast with her very own emoji. Perfectly capturing Biles's iconic status, the cute illustrated goat, which is wearing a red leotard and the requisite gold medal around its neck, was introduced doing a cool splits routine in a gif shared by Twitter Sports. "Witness greatness, Tweet with greatness," read the caption, which also showcased how the hashtags #SimoneBiles and #Simone automatically trigger the emoji. As People noted, the four-time Olympic gold medalist is the first ever Olympian and female athlete to receive her own emoji following NFL stars Tom Brady and Patrick Mahomes.
The emoji will work throughout the Olympic Games, which run from July 23 until August 8, 2021. However, although Biles proudly wore her goat-emblazoned leotards, the talented athlete downplayed the idea of her being the GOAT to People, noting she doesn't think of herself that way, nor is it anything much to do with why she chose to bedazzle her gear with a goat. It was simply to bug those who were picking at her for so long and, clearly, it worked. Naturally, this emoji should set them off too, even if the initial reaction on Twitter was universally jubilant. Sports journalist Michael Ehrlich even tweeted his demand for some tie-in merch, while another fan created a side-by-side comparison of Biles doing the same pose as her emoji.